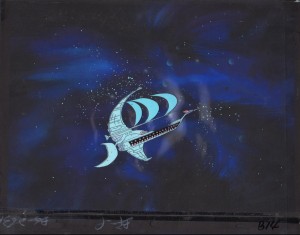 Every day we're seeing more and more cels from the Toon Makers' Sailor Moon pilot being sold on ebay. Today we get our first look at cels that come with hand painted backgrounds which give us a great look at what this show would have looked like. The Toon Makers' Sailor Moon show, sometimes called Saban Moon or Fox Kids Sailor Moon, was a pilot for a Sailor Moon show that mixed live action footage and western animation. Luckily for fans in the west we got the Dic dub instead but these cels are a great close up look at what this show may have looked like if Sailor Moon history had been much different.
The main new thing we see in this set of cels is Sailor Moon's space ship referred to in the script which we had an exclusive first look at, as the Galleon. This ship appears to be destroyed by Queen Beryl's own ship the Dark Galleon in the clip of the show we've seen. Galleon is a term generally used to describe very large multi decked ocean faring ship from the 16th to 18th century. This auction of a cel of the Galleon comes with a background of space and stars. It, like the other auctions from this seller, are not "Buy it now" so we'll have to wait a week to see who ends up buying this one. You of course should not bid so that I can win them all real cheap…
We also get another look at Sailor Mars on her Sky Flyer in this auction. The background image looks a bit like a nebula in space. There aren't really any stars but it looks quite neat.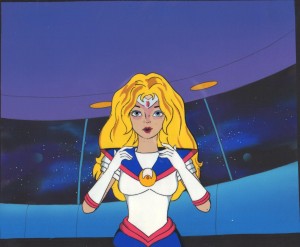 There's also this auction of a cel showing Sailor Moon with a background that I can only imagine shows the inside of the Galleon though it may also be a structure on the Moon of some kind. In the window a number of planets can be seen. This kind of image is typical of space sceneries in cartoons where the vast emptiness of the universe is not well considered or perhaps simply ignored for the sake of the visuals and space is instead shown as an endless stream of closely clustered planets and nebulae. If this is indeed near Earth or the Moon no other planets should be visible to the naked eye. This image might make sense if this were taking place on Jupiter however, which is a location in the pilot.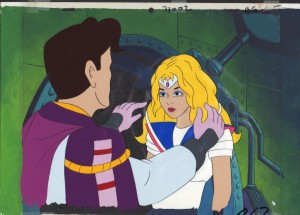 Finally we have an auction for a cel showing Darian, also known as Tuxedo Mask, giving Sailor Moon her Star Pendant. The cel isn't anything special without the inclusion of the background which shows what looks like a large portal or port hole and some pipes or wires coming out of it. A very peculiar sight. My first thought is that this could be the Vortex mentioned in the script but that Vortex should not be near the place where Sailor Moon receives the Star Pendant and is more likely in outer space. There is always also the possibility that these backgrounds don't match the exact scenes they're paired with, though most of them seem to fit and the backgrounds seem consistent with what we've seen of the show in the clip of the pilot.
These cels are not from one of the two other sellers who were auctioning Toon Makers' Sailor Moon cels earlier. They are from a seller named icollect-online. I have purchased cels from other anime and cartoon series from this seller in the past and have had nothing but good experiences.
Possibly Related Posts