Anime North is this weekend, May 27th to the 29th, at the Toronto Congress Center and 9 actors from the original dub of the first Sailor Moon anime will be there! This includes two voices of Sailor Moon. The first voice of Sailor Moon Tracey Moore, provided her voice for only the first 11 episodes as well as another four throughout the series. Linda Ballantyne was the third voice of Sailor Moon, providing her voice for the S and SuperS seasons. Also appearing are Katie Griffin, the voice of Sailor Mars, Susan Roman, the voice of Sailor Jupiter, Barbara Radecki, the voice of Sailor Neptune, Jill Frappier, the voice of Luna, Ron Rubin, the voice of Artemis, Toby Proctor, the second voice of Tuxedo Mask, and John Stocker, voice director for Sailor Moon S and SuperS. Toby Proctor, having himself replaced Rino Romano as the second voice of Tuxedo Mask, mostly acted alongside Terry Hawkes and not the two Sailor Moon voice actors in attendance, though he did appear in four episodes with Tracey Moore.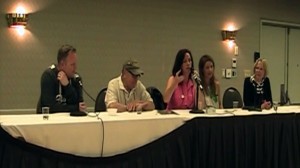 The panel with these voice actors will take place on Friday at 5pm. On Sunday at 11am Tracey Moore and John Stocker will be holding a behind the scenes of voice acting panel. The voice actors will be signing autographs throughout the weekend. Check out the Anime North schedule for the exact times.
The convention is full of Sailor Moon related events. A Sailor Moon panel will be held Saturday at 10am and a Sailor Moon Merchandise presentation will be held Sunday at 11am.
Though I am Canadian I don't live in Toronto. I've been to Anime North a number of times and have always had fun but unfortunately I won't be attending this year.
Possibly Related Posts