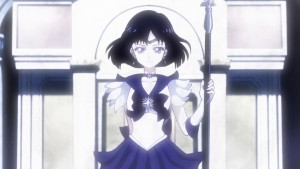 The latest episode of Sailor Moon Crystal aired on Japanese TV Monday May 23rd at 11pm Japan Standard Time. Following this it was available to stream first on Crunchyroll and then on Neon Alley and Hulu, starting at around 10:30am. Act 33, Infinity 7 – Transformation – Super Sailor Moon, introduces us to Sailor Saturn as well as to Sailor Moon's new powered up form.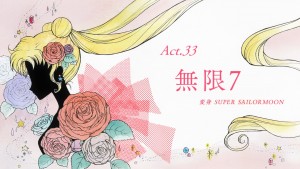 Everything before the opening credits is repeated footage. We had some of this in earlier episodes too. This is a way to recap but also a cost savings tactic. Not only is this all footage we've seen but this repeated footage itself has flashbacks in it, so there's stuff in here that we're seeing for a third time at least!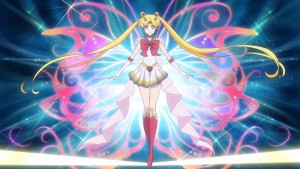 The episode starts out with Sailor Moon powering up to Super Sailor Moon. This is probably a deal to some people. I don't really care about power ups. This is Sailor Moon, not Dragonball Z! The power level of our heroes and their attacks or those of their enemies are largely irrelevant. So Super Sailor Moon beats a level 999 Witch. The struggle between hero and villain is never about power in Sailor Moon. One thing stands out to me here. Who names Super Sailor Moon? Sailor Chibi Moon recalls the name from her past, Usagi's future. She is the first to say the name and the rest of the gang catch on and use it. Sailor Moon's new uniform doesn't come with a name tag. If Usagi learned the name from Chibiusa and in turn tells her the name in the future, then where did it even come from? Basic paradox. The name Super Sailor Moon is Kyle Reese.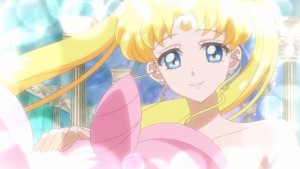 Speaking of Neo Queen Serenity, what's up with that hair? Usagi, Princess Serenity and Sailor Moon are blonde however the Neo Queen Serenity we've seen in 30th century Crystal Tokyo has always had white or silver hair up to now. The Neo Queen Serenity we see here is from beyond what we saw in the Black Moon story arc, because Chibiusa speaks to her about Sailor Moon having saved the future and has her uniform she got at school in the past. This newer Neo Queen Serenity has blonde hair. Is this a mistake, a new look for Queen Serenity going forward or does she also, like she did in the past, go through transformations between her civilian look and her more formal look as queen? The manga, being black and white, is no help here!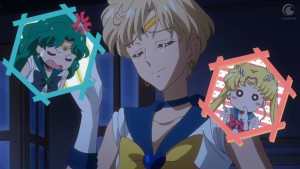 Sailor Uranus is upset at the damage to the windows in her apartment. I'd be surprised that the building wasn't evacuated due to concerns of structural integrity! She admits that her rent is a million yen a month, which is about $9000 US. I've paid rent for a year that cost about that! When asked how they afford it Sailor Uranus says that they have patrons so they don't have to worry about money. Sailor Moon asks what a patron is and we don't get an answer. So what does this mean? It's not a word that is commonly used in this sense in English. I originally read the manga in French where they used to French word "patron" which, in Canada, means boss. I thought maybe this was some kind of joke about prostitution. A little research tells me this is hardly the meaning they were going for. As far as I can figure it's a reference to some sort of financial backer for artistic ventures, which in this case might be Michiru's violin playing or perhaps Haruka's race car driving. This does not explain the embarrassment in the statement. Surely there's something more to this story, but I don't understand it.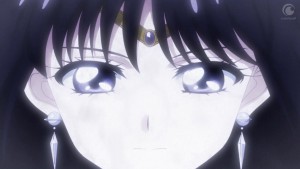 Finally we get to see Sailor Saturn in this episode! Doesn't she look great? We learn of the last time she appeared, and get to see Sailor Uranus, Neptune and Pluto in their native environments. Sailor Neptune appears to be on a rocky planet, which doesn't really mesh with what I know about the surface of Neptune. The three are then transported to Saturn, which also seems a lot more solid than I would expect, and there they summon Sailor Saturn who shows up and kills them. As Silver Millennium was falling, Sailor Saturn seems to have picked up all the bits and pieces by conveniently killing the rest of the Sailor Guardians. Why? I guess it would be boring for them to keep living for a really long time? We then learn that the three of them were reincarnated on Earth, although we know of course that Sailor Pluto was reincarnated from her future self, unless there are two that is.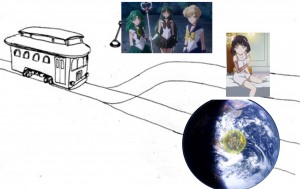 Once again we have a trolley problem as we weigh the morality of killing Hotaru to save the world. It's simple really. If Hotaru becomes Sailor Saturn, she will destroy the world. This will kill everyone including Sailor Saturn. Alternatively if Hotaru is killed, everyone else survives! Also Hotaru is dying anyway. The only way to cure her is to let her become Sailor Saturn which means everyone dies. This is sort of like the trolley problem. In this thought experiment a trolley is flying out of control down a track which will kill five people. You can pull a lever which sends the trolley onto another track which saves those five and kills one person. Do you pull the lever? I feel like my experience with Sailor Moon has taught me that I should not pull the lever. Utilitarian ethics dictates one should go for the greater good, and should feel morally obligated to pull the lever. Similarly, the morally correct solution to the Sailor Saturn problem, prioritising the needs of the many over the needs of the few, means that Hotaru should be killed. Sailor Moon doesn't go for this and neither does Chibiusa. They are convinced there is a better way in which everyone can be saved. They refuse to sacrifice one life at any cost, but Sailor Uranus, Neptune and Pluto are more practical about the issue, opting for child murder to save the world. Would you pull the lever?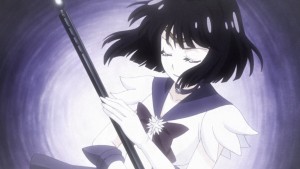 Sailor Pluto makes the argument that because the future exists Sailor Saturn must have been killed. This is a really odd comment, and reminds me of seeing a later episode of a TV show and then going back, knowing they are going to get to a certain point and trying to figure out how. It makes me wonder of course whether or not Sailor Pluto lived through these years already, in the past of the future self which died and was reincarnated in the present. If she did then she would remember the world not ending and possibly some serious stuff going on in Tokyo around this time.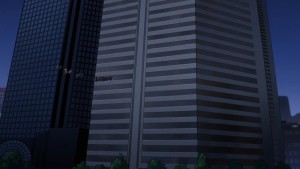 I don't think I've addressed the issue of flying before. In the old anime, there was usually no flying, but in the manga the characters seem to fly around a lot. They do it a lot in Crystal too, and because it's animated it's more obvious than seeing static people floating in manga pages. This week we see the Sailor Guardians fly right into the broken window of the apartment building but more specifically this includes everyone but Sailor Chibi Moon and Tuxedo Mask. Are they unable to fly? They show up a bit afterwards and then when Sailor Chibi Moon runs off she literally runs away, through the elevator and then jumping from rooftop to rooftop, at a height of over 20 feet with every jump. When she gets to Hotaru's place, Sailor Uranus, Neptune and Pluto beat her there, but were nice enough to not murder her friend. It certainly would make sense that Sailor Chibi Moon be less powerful than the rest. I imagine Tuxedo Mask can fly but was being a nice guy accompanying his daughter who can not.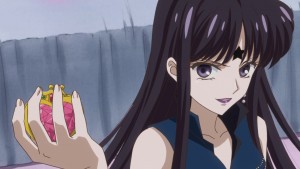 Hotaru may not turn into Sailor Saturn this week but she does transform into Mistress 9. She basically kills Sailor Chibi Moon by stealing her Silver Crystal and then turns into this older eviler version of Hotaru. In the manga she doesn't appear with the dress and everything in this chapter, but here she does. Chibiusa is essentially killed in the process. This is Sailor Moon though so she's only mostly dead.
Next week is Act 34, Infinity 8 – Infinite Labyrinth 1. Chibiusa's dying, Mistress 9 is running amuck and we're still debating whether or not it's cool to kill Hotaru who isn't all that innocent any more. I believe we will be seeing the third opening and ending songs with Act 34, though I'm not sure. The second themes appeared for the 5th episode following the first CD release. The second CD came out today, May 25th, and the next episode is the 9th of this story arc with 5 remaining. The new intro will still be In Love With the New Moon but this time performed by Momoiro Clover Z. The new ending theme will be Only Eternity Brings the Two Together, sung by Kenji Nojima, the voice of Tuxedo Mask.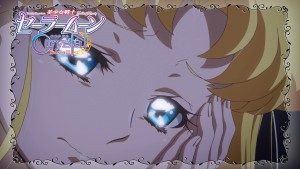 Keep reading for more screenshots from Act 33 and the preview for Act 34.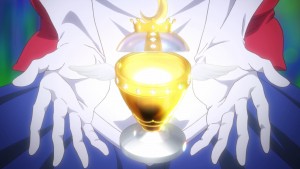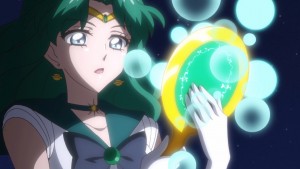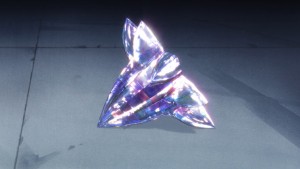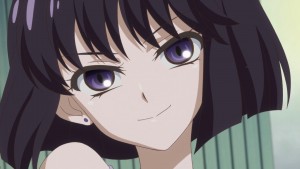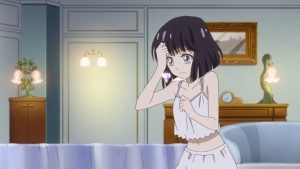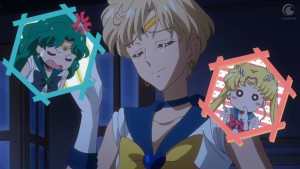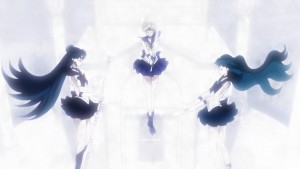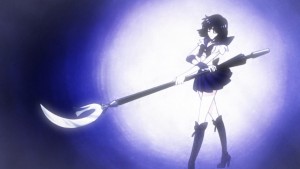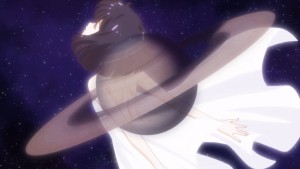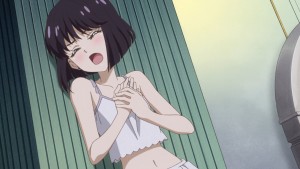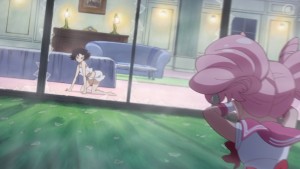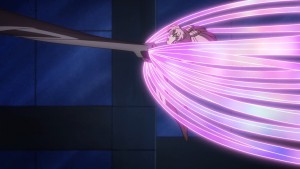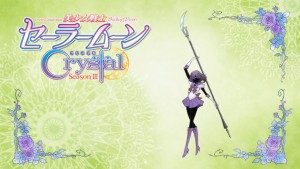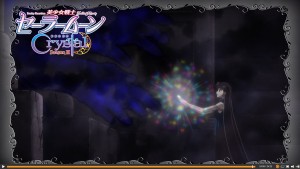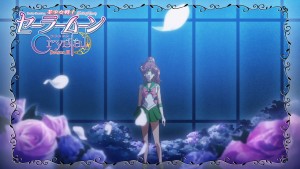 Possibly Related Posts