The next new episode of Sailor Moon Crystal will air on Japanese TV this coming Monday, May 23rd, at 11pm Japan Standard Time. Following this, at 10:30am Eastern Time, the show will being to be available to stream in North America. The show is generally first available on Crunchyroll, though the stream for devices may not show up during the first bit. For example when I used to get up early on Saturday mornings to watch the show I couldn't watch it on my PS3/PS4 app, but needed to watch it on my computer instead, though after a few hours this was not a problem anymore. Neon Alley usually has the stream available a bit before Hulu, which is at first restricted to Hulu Plus users.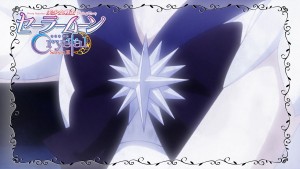 This week we are getting Act 33, Infinity 7 – Transformation – Super Sailor Moon. Good to see someone's getting a transformation during this story arc! I don't care about Super Sailor Moon though. I care about Sailor Saturn! Based on the preview and manga we should see her this week, but it's in the form of a flashback to the fall of Silver Millennium when Sailor Saturn showed up to murder a bunch of people. We won't be seeing Hotaru transform into Sailor Saturn but she will turn into something!
The original manga version of Act 33 features a comment about how Harukua and Michiru have patrons. I never quite understood the meaning of this comment and wonder if it will be included in Crystal so that we can speculate about it all over again.
Possibly Related Posts