Well isn't this just confusing. The latest episode of Sailor Moon Crystal, the 28th episode, is also called Act 27. Sailor Moon Crystal Act 27, Infinity 1 – Premonition – Second Part, is now available on Crunchyroll, Neon Alley and Hulu. This episode covers the second part of the manga chapter which is Act 27, and so in order to keep the numbering for future episodes, Act 27 is used for both parts. This will be a bit confusing in the future as the Act number for every episode will not accurately reflect how many episodes have been released to date. Crunchyroll, Hulu and Neon Alley all refer to it as Episode 28 – Act 27 … I will continue to refer to episodes as "Act XX" so it will be Act 28 next week, even though this is the 29th episode and some services may use 29 to refer to it.
Since this episode covers half an Act of the manga, the pacing is a bit off, but with two monster attacks in that original story it actually works decently. Overall this was another great episode full of lovely animation. I enjoy all of the cute animation things they've included which have super deformed characters and silly little things. These are often unrealistic such as Usagi pulling a hammer out of hammer space or Sailor Chibi Moon breaking the forth wall by blowing away a balloon which Sailor Moon pops up in.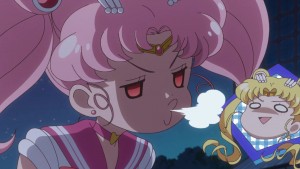 There's a massive Luna book in the Tsukino living room. What's that about? I guess if I saw a book with a picture of a cat that looked just like mine on it I might buy it but I have a sort of generic looking black cat who is also named Luna. Coincidence? Of course not I named the cat after the Sailor Moon character.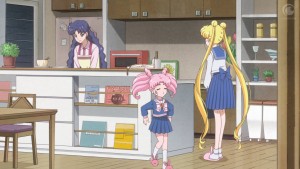 A big change this week is this new fancy communicator that Mamoru has but absolutely refuses to use. First we see Mamoru on this ancient assed phone talking about his communicator, but not using it. It's odd enough to see a man of Mamoru's age and lack of family attachments not using a cell phone, but having him use a land line to refer to his communicator is absolutely absurd. Are there limited minutes on this thing? I don't think it's using the cell service of Tokyo. Pretty sure it's being relayed through the massive super computer hidden under the arcade. Pretty sure these things can be used to do point to point or conference type calls as much as needed. Mamoru has no one in his home and given his willingness to divulge secret identities last week, it's hardly a security concern to use the communicator which he's openly wearing on his wrist as it's designed for. In reality in 2016 he should have a cell phone and the communicators are not really something that needs to exist, but with this being such a faithful adaptation of the manga it's not simply a case of upgrading a disk to a CD and a tape to a DVD when things are so closely tied into the story. This isn't the live action series which beautifully adapted period relevant cell phone technology to suit the story after all. So Mamoru uses a lame phone and doesn't really use his communicator like he should.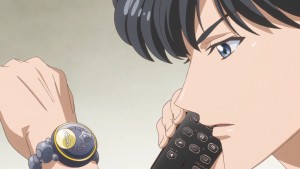 We get a decent look at the Witches 5 this week. They aren't really supposed to be in it as much as they are. In the manga they don't show up at the battle but then they needed to stretch out the battle with something. They're supposed to show up one at a time starting with Eudial in the next Act. That seems to still be happening. Cyprine is shown but Ptilol is not. This may be because there are 6 members of the Witches 5 and showing them all makes their name seem stupid.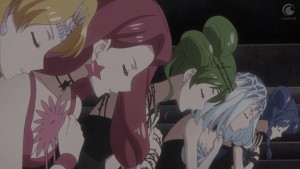 Chibiusa heads to the amusement park with her friends. Mamoru accompanies her and brings Asanuma along and how in love is this guy with Mamoru? Also in attendance are Chibiusa's friends who are all basically slightly younger versions of characters we've seen elsewhere in the series. Kyuusuke, who we've seen before, is basically a small version of Mamoru. Chibiusa's relationship with him isn't that weird considering she's totally made out with the fully adult version of her actual father. The Umino looking kid is Sorano. He also looks like Amano from the Sailor V comic. Speaking of originality, his name, Sorano, is like Hikaru Sorano, Minako's Ami looking friend from Sailor V. I'm not sure what that other kid's name is but he looks like a tiny Asanuma. Maybe he's totally in love with Kyuusuke. Why not? I'm shipping those two.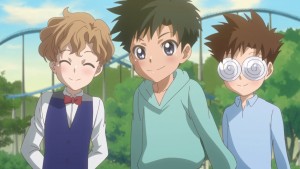 Chibiusa loses her hat. This is a big deal because Ikuko Mama, who's pretty much her 3rd most important mom, gave it to her. This hat travels really far, behind a massive building, and so far that Mamoru can't follow. Chibiusa runs after it and Mamoru leaves immediately afterwards, but never quite manages to catch up. More than anyone needs to say about that later.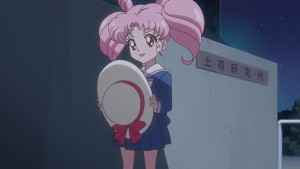 Usagi transforms into a student from Mugen Academy. Great plan! This school is huge, having student from all levels and with 60 floors! Somehow though she gets called out by a student that doesn't recognize her. She must be really good with faces. Mugen Academy is a new school, but somehow one that has produced a great number of celebrities. I expect it didn't actually spring up between seasons but I feel it can't have produced that many important graduates in such a short time. The Daimon this week is a cat that really doesn't seem to care about being turned into a monster. Classic cat!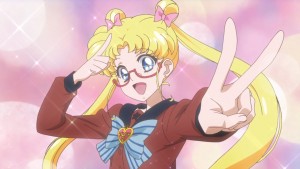 Cue the transformation sequences. We did this last week. Stock footage has its cost savings purpose and when used properly it can look good and not be annoying. This week's purely stock footage transformations, most of which we saw last week, ran from 13:55 to 18:22. That's four and a half minutes of transforming and posing. The show is 24 minutes long with a minute long opening and ending. We don't have time for this. This is excessive. I like what the new episodes are doing and the love improved animation but this is one aspect which I did not appreciate and I hope it is improved in the future. New here is only Sailor Chibi Moon's transformation sequence which is cool if not kind of like the rest. She does a somewhat humorous "you have a small penis" pose with her fingers which I find funny but, given the wide variety of perversion on the Internet, I'm sure will actually be appreciated by someone out there.
Sailor Neptune and Uranus appear in this episode as cardboard cutouts. I felt like I was looking at frames of the manga. I get that they don't really do much in this fight but they are so briefly shown in flashes that it's a bit disappointing. Sailor Uranus in a mask and cape is cool though. Her gender is still ambiguous and Usagi seems to recognize her.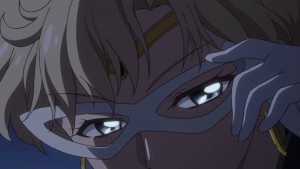 Hotaru is all over this episode. She doesn't do a ton but it's nice to see her and her wicked new hair cut. She seems to have changed the most of the new characters with just this. She seems to immediately discover everyone's secret identities by asking "Who the hell are you?" and then Sailor Chibi Moon seems to think there's no more reason to hide things. A funny exchange. Naturally we'll be seeing a lot more of her as this season goes on because it's not the original anime which downplayed everything about this character.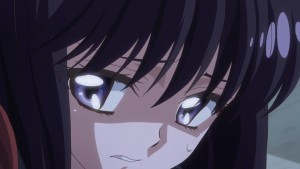 Enter Mamoru. Remember this guy? Yeah he just fails on every level in this episode. He ran after Chibiusa and her hat. Chibiusa is a child. He's a grown man! He jogged in the original anime. This guy can't keep up with a child and the wind. He even had an extra four and a half minutes to catch up while everyone was transforming and posing for the cat Daimon that didn't really care about anything. If only Mamoru had some way to find out where everyone was! Oh right, he very specifically mentioned his communicator as a tool to keep in touch with Usagi at this exact time and he's just not using it! Does this fossil from the 90s need a land line to stay in touch with his girlfriend? Maybe the girls should have started a fire and sent out some smoke signals so that Mamoru can keep up!
Next week is Act 28, Infinity 2 – Ripples, which is a confusing name for the 29th episode and 3rd part of the Infinity Arc but here we are. This episode will air next Monday, April 18th, and be available to stream at 10:30am Easter Time. The gang head out to a sort of school retreat by students of Mugen Academy where Eudial of the Witches 5, posing as a student, gets up to no good. She's the paired Rei villain of this story arc, so it becomes a Rei episode! Since Act 27 Part 2 actually went a bit into the story of Act 28 it's hard to tell where exactly this one will end. It should be easy enough to just wrap up the episode where the manga chapter does.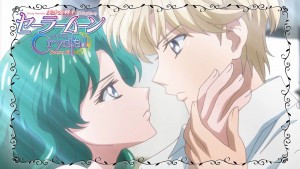 Good job if you made it this far. My review seems a bit more unhinged than usual this week. Keep reading for more screenshots from this episode and the next episode preview for Act 28.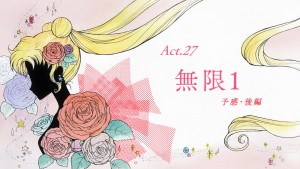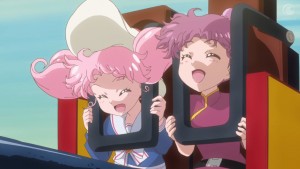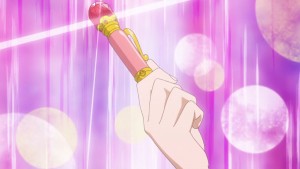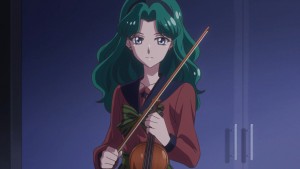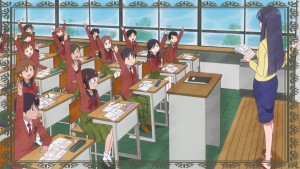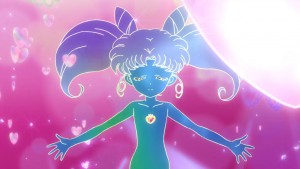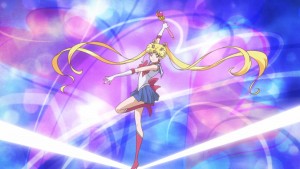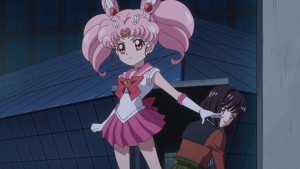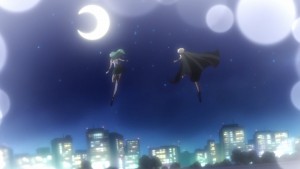 Possibly Related Posts