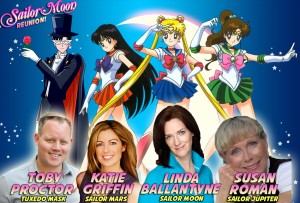 This weekend is Eternal Con at the Cradle of Aviation Museum in Garden City, New York. New York City Sailor Moon fans will have a chance to meet Linda Ballantyne, the voice of Sailor Moon, Katie Griffin, the voice of Sailor Mars, Susan Roman, the voice of Sailor Jupiter, and Toby Proctor, the voice of Tuxedo Mask. Though the convention runs from June 10th to the 12th these voice actors from the original dub of the Sailor Moon anime will be there on Saturday June 11th and Sunday June 12th.
A panel will be held on Sunday, June 12th, at 1pm with all of the voice actors. Photo ops will be Saturday at 11am and Sunday at 12pm. I did not see any specifics about autographs on the site but the cast likely be available throughout Saturday and Sunday when they are not otherwise occupied.
Also appearing at the convention is Yuuta Mochizuki who played Tuxedo Mask in a number of Sailor Moon Musicals. He was the second Tuxedo Mask and first appeared as Kunzite in the very first musical. Many Sailor Moon and Sentai fans may also know him as the original Red Power Ranger in Zyurangers, the series which was adapted as the first season of Mighty Morphin Power Rangers.