A single day Sailor Moon convention will be taking place in Toronto next month on September 27th. Toronto Sailor Moon fans should be sure not to miss it. The event is being put on by Emily from Moon Chase! and will feature special guest Roland Parliament, the voice of Melvin and voice director for the first 65 episodes of the original English dub of Sailor Moon and Ron Rubin, the voice of Artemis the cat throughout the series. As described on Moon Chase! and the Facebook Event for the page, the event will include:
Q&A session with Roland Parliament: ask your burning questions about what it was like to be the voice of the geeky Melvin, the experience of voice directing Sailor Moon, or even find out more about his book Sailor Moon Reflections
Q&A session with Ron Rubin: ask your questions about what it was like to be the voice of a talking cat and how being part of the anime series and movies from beginning to end influenced his view of Sailor Moon and the role of Artemis
Autographs and photo ops with Roland Parliament and Ron Rubin
Sailor Moon merchandise: presentation on a selection of merchandise available in Japan and Canada, includes some real life merchandise that you can see up close!
Sailor Moon Classic versus Sailor Moon Crystal: open discussion of the two animes
Mythology and Sailor Moon: discussion of the influences of mythology in the story of Sailor Moon
Gender, Sociology and Sailor Moon: discussion of the aspects of gender, race, and socio-cultural significance of Sailor Moon (and Sailor Moon cosplaying) in North America
Sailor Moon singalong: It's like a group karaoke! Sing along to various Sailor Moon songs, in English and Japanese. Lyrics will be on a screen so everyone can follow along.
Cosplay parade
And more!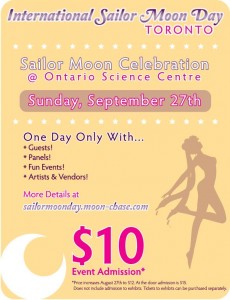 There will be a lot to keep a fan busy with a number of panels, a vendor area and craft area. Tickets are currently only $10. The price of tickets will be going up tomorrow, August 27th, so get your tickets now. If you didn't get a chance don't worry, they are only going up to $12. Entry into the Ontario Science Centre exhibits must be purchased separately for those who are interested in them. I visited the Ontario Science Centre last summer and found there were a lot of interesting exhibits there which are worth checking out.
Along with your ticket you can order a $2 International Sailor Moon Day wrist band which is exclusive to this event. The event carries some Sailor Moon Day branding as it was originally planned for Sailor Moon Day earlier this month before being delayed.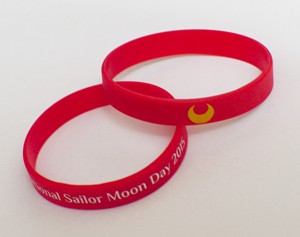 Roland Parliament recently wrote the book Sailor Moon Reflections which recounted many memories from his time recording Sailor Moon. Though I never got a chance to formally review the book I did read it and found it to be fantastic. It is a very interesting take on the history of Sailor Moon that any fan of the original dub should check out.
Possibly Related Posts