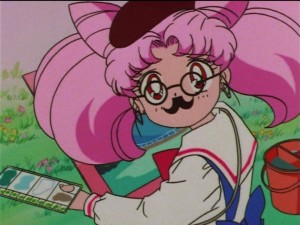 The two latest episodes of Sailor Moon SuperS, episodes 134 and 135, have been added to Hulu and Neon Alley this morning. This week we get a couple of episodes focusing on some artists first as Makoto's friend writes a novel about Pegasus and next as Chibiusa deals with a teacher who's lost her groove.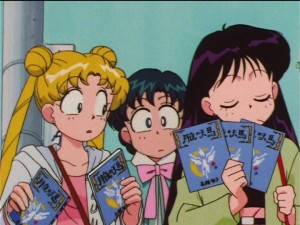 Episode 134, Makoto's Friendship: The Girl Who Admired Pegasus, has the Sailor Guardians excited about a new book release by a local writer. As the gang are ready to get autographs we once again see that Rei takes her autographs seriously, bringing three copies of the book to get signed. We previously learned about this obsession way back in episode 21 when she brought a bunch of autograph paper to the animation studio working on the Sailor V movie. The book, which is all about Pegasus, was written by author Tomoko Takase who turns out to be Makoto's friend. Who knew the Sailor Guardians had friends who weren't each other? The girls have always been presented as having been lonely prior to encountering Usagi. In a flashback we see that Makoto and Tomoko befriended each other while Makoto was at her old school so this is prior to us seeing her in the series. Her relationship with Tomoko began somewhat like her relationship with Usagi had, as she help protect her from a bunch of bullies, which leads her to read the story she's writing. I guess Makoto didn't remember having dreamed of Pegasus as a child at this point, something we later learn all of the Sailor Guardians did but mostly forgot. Tomoko has lost her motivation after seeing a boy she likes with a girlfriend. Chibiusa is shocked at the book, as it's all about Pegasus who comes and fights with her and sometimes shows up by her bedside, and tells Tomoko about it. Tomoko is targeted and in the ensuing fight sees Pegasus which helps her get her groove back.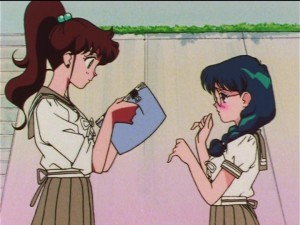 Episode 135, Connecting Hearts: Chibi-Usa and Pegasus, is not the most feminist episode. Chibiusa and her friends are painting in a park, and Chibiusa is all about doing crazy crap. She has a moustache, because she thinks artists should have moustaches, which doesn't say much for female artists! She also draws Pegasus into the landscape because she's a free thinking hippie who can't follow the assignment. Her teacher, Morino Sensei, is not happy about this one bit and threatens to fail her for it. Kyuusuke gives Morino a bit of trouble mocking her singleness and blaming her stubbornness for not having a man. Harsh criticism from a little runt. Momoko also appears here and we see that her hair colour has somehow changed from a natural brown to a less normal looking purple. She still has normal looking hair when compared to her friend! When Usagi and Chibiusa run into Morino this triggers and unusual parental reaction in Usagi, who otherwise usually does no such thing. This whole exchange is quite humorous. Ultimately Morino is targeted by Tiger's Eye, which would make her his oldest target to date. In the final scene of the episode we get a sort of weird scene in which Chibiusa changes in front of Pegasus which makes him blush, insinuating there is some sort of attraction there not typical of a human/horse relationship. There seems to be more to this winged horse than meets the eye!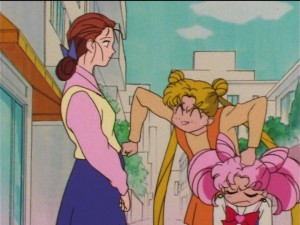 Support the site by buying the first two seasons of Sailor Moon on DVD and Blu-Ray using the links below.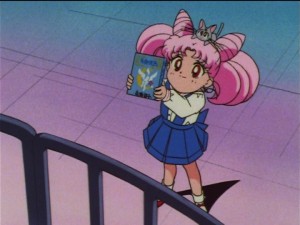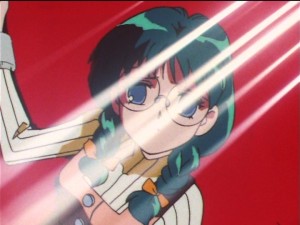 Possibly Related Posts