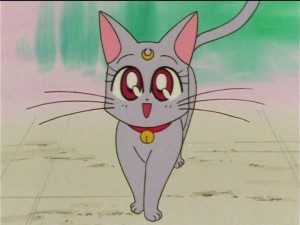 This morning Sailor Moon SuperS episodes 132 and 133 were added to Hulu and Neon Alley. With that we get a couple of hilarious episodes focusing on the fragile nature of rock solid relationships which it turns out aren't actually fragile at all. First Mamoru and Usagi's relationship is put to the test and then Luna must deal with Artemis's illegitimate kitten he seems to have had with some random stray! As expected we did not get the Sailor Moon SuperS Special which takes place between episodes 131 and 132. You can read more about that special in last week's write up. There is currently no indication as to when, if at all, the Sailor Moon movies and specials will be released.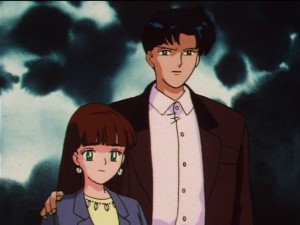 Episode 132, The Perfect Couple: Usagi and Mamoru's Love, is not an episode about how Usagi and Mamoru are the perfect couple. It's about the relationship, or lack thereof, between Saori and Kobayashi, two of Mamoru's friends. Kobayashi loves Saori. Saori loves Mamoru. Mamoru loves Usagi. Usagi loves Mamoru. Chibiusa loves Mamoru. Tiger's Eye targets Saori. It's a whole intricate web of attraction! When Saori and Kobayashi are having a chat at Mamoru's the conversation is a bit awkward, and it just gets worse when Usagi and Chibiusa show up. Chibiusa does nothing to reduce the tension when she flat out asks Saori what her intentions with her Mamoru are! Chibiusa is rightfully concerned that Mamoru may end up with Saori because if he does she may never be born in the first place! This concern is passed on to Usagi who can't help but imagine Mamoru straying with this more mature woman. Does anyone actually ship these two together? This relationship reminds me of Hina and Mamoru in the live action series. They are the same age and theoretically compatible but tragically Mamoru has no interest because he loves Usagi. Tiger's Eye targets Saori in this episode. This is a bit odd as I'm having a lot of trouble figuring out where him and Hawk's Eye draw the line between young woman and older woman. Hawk's Eye, who prefers older women, went after Reika, Motoki's girlfriend who appears to be roughly Mamoru's age. Saori is Mamoru's school mate and appears to be roughly the same age but is targeted by Tiger's Eye who generally pursues younger women. Ultimately during the inevitable combat Saori sees Mamoru call Sailor Moon Usagi and so she sees that she can't possibly come between the two. Does this leave Kobayashi the winner of the covered silver medal, the runner up consolation prize of the woman who can't have the man she wants? We will never know as they are never seen again.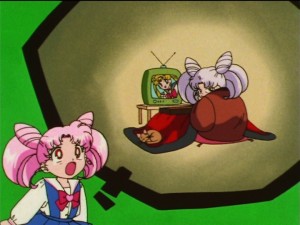 Episode 133, Artemis Is Cheating? Enter the Mysterious Kitten, is an interesting follow up to the Sailor Moon S movie. This episode features one of the most hilarious scenes of the series. When asking for help with her homework Chibiusa tries to convince Mamoru that if he doesn't help her she'll do poorly in school, be mocked by her friends, never get married and end up old and alone. Her imagination of this shows a white haired old lady Chibiusa sitting with her cat watching the Sailor Moon anime on a TV. Does the Sailor Moon anime exist in the world of Sailor Moon? We've only ever seen the Sailor V series to date, but this seems possible. Artemis gets busted in this episode staring lovingly at a Nun. He later confesses he was just in awe because he dreams of getting married in a church some day. Is this a feasible goal for a cat? The Catholic Church does not consider animals to have souls, so I think they would have a bit of trouble reconciling the love between a couple of alien cats from another solar system. Suddenly a cute grey kitten with a crescent moon on her head shows up calling Artemis father, and Luna assumes the worst. Clearly the only logical explanation, given the causal nature of the universe, and that Luna has never given birth to a talking kitten with a crescent moon on her forehead, is that Artemis impregnated a real cat at some point fathering this kitten. The insinuation is simple. Artemis, having sexual needs, has been having sex with one or more cats. There is some room for a non cheating relationship to have caused this prior to the events of the Sailor Moon S movie when Luna and Artemis's relationship became formalized. Prior to that Artemis was free to do as he pleased while Luna was being pursued by Rhett Butler and transforming into a human to make out with her space man. Luna is understandably upset, but so is Minako! She is not upset for Luna but for herself! Minako and Artemis have a strong relationship! Well it turns out it was just a misunderstanding. Diana is simply Luna and Artemis's daughter from the future, and now everyone is back to being happy. Artemis laughs it off but sympathizes with Mamoru's situation, having his future daughter around cramping his relationship with his girlfriend and future wife.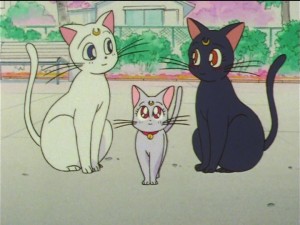 Why bring Diana in now and not two seasons ago? In the Sailor Moon Manga Diana shows up in Crystal Tokyo, like she did in Sailor Moon Crystal, in what is the equivalent of Sailor Moon R in the anime. We never see her at this point and when Chibiusa returns in Sailor Moon S, she returns alone. It's not really clear why the anime writers chose not to include her but at this point they manage to throw her in for a very brief appearance before she is to be swept under the same rug Chibiusa disappears under during SailorStars.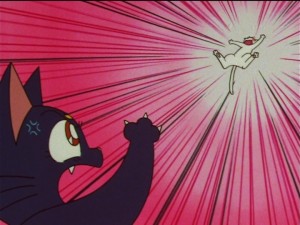 Support the site by buying the first two seasons of Sailor Moon on DVD and Blu-Ray using the links below.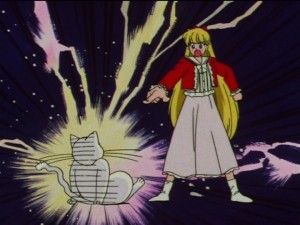 Possibly Related Posts