A few weeks ago we got our first look at the Nogizaka46 x Sailor Moon musical. This new musical will be playing in Tokyo this summer first at the Tennōzu Galaxy Theatre June 8th to the 24th and then at the TBS Akasaka ACT Theater September 21st to the 30th. What, you may ask, is this musical all about? Nogizaka46 is an all female pop band in Japan and this is a Sailor Moon musical featuring members of that band. As we can see from the promo image and the posts on the Sailor Moon official site and musical's official site, 10 of the band members have formed two Sailor Teams. One is Team Moon and the other is Team Star.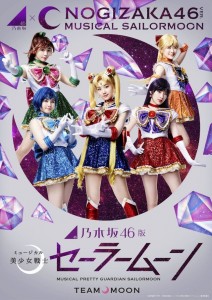 The two teams seem to be identical in costume and appearance, though we can clearly see that the members in those costumes differ from one image to the other. With multiple shows being put on over a fairly short time the two teams are scheduled to perform on different nights. At first I imagined this was to give the other team a break on the off days but since a lot of the other cast of the musicals is only listed once it seems like not everyone is on that schedule. Perhaps this setup is simply meant to vary the performances to feature more of their talent. It remains to be seen if the performances themselves will vary depending on the team performing. Perhaps each team will have an exclusive song to encourage people to see multiple performances! At this point this is only speculation.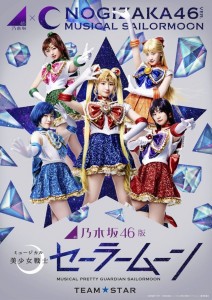 Here's a translated cast listing. I'm not good with Japanese names (since Google Translate messes them up) so I had a little help from this Anime News Network article for this list. I attempted to find a relevant link when possible. All members of Nogizaka46 have profiles from the official site and for others I tried to find a profile or social media link.
Team Moon:
Sailor Moon/Usagi Tsukino: Mizuki Yamashita (Nogizaka46)
Sailor Mercury/Ami Mizuno: Riria Itō (Nogizaka46)
Sailor Mars/Rei Hino: Kazumi Takayama (Nogizaka46)
Sailor Jupiter/Makoto Kino: Ami Noujo (Nogizaka46)
Sailor Venus/Minako Aino: Hina Higuchi (Nogizaka46)

Team Star:
Sailor Moon/Usagi Tsukino: Sayuri Inoue (Nogizaka46)
Sailor Mercury/Ami Mizuno: Miria Watanabe (Nogizaka46)
Sailor Mars/Rei Hino: Ranze Terada (Nogizaka46)
Sailor Jupiter/Makoto Kino: Minami Umezawa (Nogizaka46)
Sailor Venus/Minako Aino: Kana Nakada (Nogizaka46)

Naru Osaka: Yuka Yamauchi
Umino Gurio: Marina Tanoue

Kunzite: Chihiro Andō
Zoisite: Sari Kojima
Nephrite: Shin
Jadeite: Rina Takeda

Ensemble (I assume this means background dancers, various monsters and such):
Mayuko Kawamoto, Mayu Kaburagi, Kumiko Saitō, Ayuka Kurachi, Minami Watanabe, Mami Mitsuoka

Queen Beryl: Nami Tamaki

Tuxedo Mask/Mamoru Chiba: Mikako Ishii

Director: Worry Kinoshita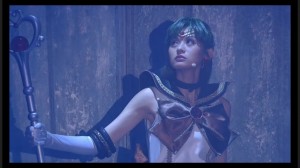 Only the main cast of the Sailor Team will be composed of Nogizaka46 members. The rest of cast of characters are played by various musical stars and dancers, as was the case with other musicals. To me the most interesting casting decision here is that Mikako Ishii, who played Sailor Pluto in the last few musicals, will be playing Tuxedo Mask! It's well established that Sailor Pluto has an unrequited love for King Endymion in the future! What better way to gain someone's affection than to literally become them? Also returning is Chihiro Ando as Kunzite. She previously played Tiger's Eye in the Amour Eternal musical. As we see from this an other casting we once again have an all female cast even including the male characters.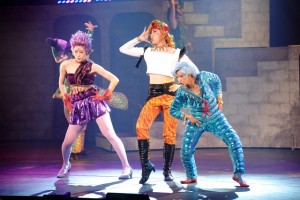 It seems clear that the story will cover the Dark Kingdom story arc though beyond that it's hard to get a sense of what the content or structure of the musical will be like. Given the cast and that we have two returning cast members I'm inclined to think that it will be a similar presentation to musicals we have seen in the past.
So … which Team are you rooting for? Is that how we're supposed to be reacting to this? Go Team Star! No way Team Moon is the best! … and so forth.