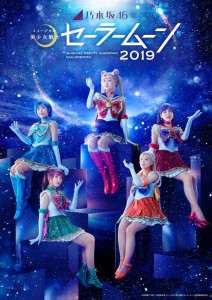 A Sailor Moon musical will finally be made available to stream legally with English subtitles. The 2019 Nogizaka46 x Sailor Moon musical will be available to stream from August 20th to August 26th from Japan 2.5D Stage Play World. The stream will be available as of 8pm on the date of purchase and for 24 hours afterwards for the cost of $15. This is certainly less expensive than importing a DVD or Blu-Ray or buying an in person ticket, let alone the flight and accommodations while in Tokyo! This of course also costs more than downloading a fansubbed version of a musical but I always encourage supporting the Sailor Moon properties you enjoy by purchasing available legitimate releases. Although there are fansubs available for many Sailor Moon musicals, there is non for the Nogizaka46 x Sailor Moon musical. If you've been downloading musical fansubs for years using the excuse that there was no legal domestic way to watch them, now is the time to back that claim up with a few dollars!
The event starts this week with a Naruto stage play followed by My Hero Academia the week of August 13th to the 19th. The streaming service is provided by Globe Coding. You can check out supported devices on this page. I was able to load the test video in 720p on my somewhat old laptop without any real issues. The event is advertised as being held in USA, Canada, Australia, New Zealand, United Kingdom and Singapore though it's possible it works in other countries as well. It is specifically mentioned that it will not work in China (Mainland), Russia, North Korea and Middle East countries or areas (Afghanistan, United Arab Emirates, Yemen, Israel, Iraq, Iran, Oman, Qatar, Kuwait, Saudi Arabia, Syria, Turkey, Bahrain, Jordan, Lebanon, Palestine).
The Nogizaka46 x Sailor Moon musical was originally released in 2018. That is the version which was originally released on DVD and Blu-Ray, which I reviewed for this site. Since there are a lot of members of Nogizaka46 (there are 46…) the 2018 show was broken up into two teams. Team Moon and Team Star shared some supporting cast who weren't part of the musical group Nogizaka46 but the Sailor Guardians in each team were played by unique performers from the popular idol group. The teams alternated different nights of the performance and the home video release included performances by both Team Moon and Team Star. The 2019 version of the musical was performed by a new set of performers from Nogizaka46. Having two versions of the musical already I hadn't opted to pick up the 2019 Blu-Ray release, but as I haven't seen the musical subtitled, as Japanese releases of Sailor Moon musicals have never included English subtitles, this will be a great opportunity to watch it again with a new cast and some context of what's being said!
As musicals go the Nogizaka46 musical was quite good. I enjoyed the story, a retelling of the first story arc from the manga, as well as the excellent puppet work for Luna and the inclusion of Naru and Umino. For $15 I think this is a good deal and although I haven't figured out which day works best for me I certainly plan on streaming this musical in a couple of weeks. Do you plan on doing the same? Will you be streaming any of the other events from Japan 2.5D Stage Play World?