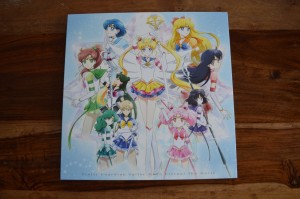 Sailor Moon Eternal was released on DVD and Blu-ray in Japan on June 30th. This included both a standard and limited edition of both. Good news for Japan, which previously had seen only a theatrical release of the films. Less useful internationally as many countries are streaming the films on Netflix with English audio and subtitle options. Still the limited edition Blu-ray and DVD have a number of nice features fans may be interested in checking out. I picked up the limited edition Blu-ray, which I'll be discussing in this post.
There were a number of vendor exclusive versions of this release which differed amongst retailers and while I got the release from Amazon Japan I opted not to pay the cchionsiderable extra cost on top of the already high price tag for these exclusives. In retrospect I enjoyed the box art so much that perhaps a nice print of it would have been worthwhile, but it's a bit late for this!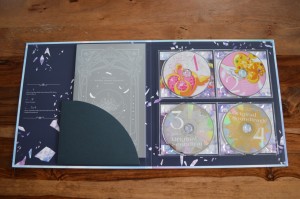 The set itself comes with a really beautiful package. This isn't a standard DVD or Blu-ray sized box but instead something the size of a laserdisc or LP jacket. Inside are four discs. There's a Blu-ray of the films, a Blu-ray disc of bonus features and two audios CD soundtracks, one for each of the movies.
Disc 1! The movies. There isn't much on this except for the two Sailor Moon Eternal films. I won't repeat my review of those films. I quite enjoyed them and you can read my more in depth thoughts in my full reviews of Part 1 and Part 2. Interestingly enough the two movies are just one long video track of this Blu-ray. This doesn't mean this is one movie or that it was always intended as one movie as there are still ending and opening credits, but we could easily have had separate video tracks for these.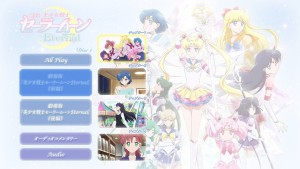 The disc's menu has chapter markers which more or less break the movies up into single episode Acts, like with the TV series. This isn't perfect again because some of them are shorter than others. The "Ami" chapter is only about 11 minutes and the "Rei" chapter is about 12. The second film's chapters are broken up a bit more evenly as that story isn't as clearly separated into distinct stories like with Part 1. Keep in mind that there are no English audio or subtitle options. As with all other Japanese Sailor Moon video releases, this is only meant to be viewed by a Japanese audience. If you want to watch it in English, get a Netflix subscription!
The video quality of the Blu-ray is quite good. It's hard to compare a Blu-ray to a stream of a movie because there are all sorts of things which can affect a streaming video's quality. Netflix adjusts its video quality based on a user's bandwidth so I don't know if the quality I was watching the movie at was the best possible. I took some screenshots from the Netflix stream for my reviews but there may have been issues with using a web browser to do that. The Blu-ray, to me, looks superior to the streaming version I'd seen on Netflix. I had watched the films twice on the Netflix app on PlayStation 5 and then once through the Netflix site a web browser on a laptop connected to a TV via HDMI. I'll include a few screenshot comparisons here and at the end of the post. Keep in mind there is jpeg compression on these images which is a form of lossy compression but that same transformation was applied consistently to both types screenshots using the built in Mac OS screenshot function. I did find the level of detail in the Blu-ray release is superior to what I saw with the streaming version. The fine detail such as lines looks better.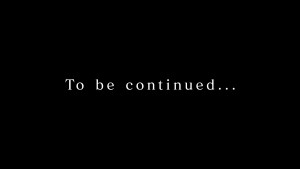 Part 2 ends with a screen saying "To be continued". This was included in the original Japanese theatrical release but was not in the Netflix version that most people have watched. The insinuation here is evident. They intend to continue Sailor Moon Crystal with a Stars arc. What that will look like or when we will get it remains to be seen. I hope we aren't going to have to wait months for this one!
The second disc is another Blu-ray and includes all of the bonus features. The menu is all in Japanese but I will explain the feature in the order they're seen on the menu. Many of these had previews posted on YouTube which I'll include links to. As with the movies these are only available in Japanese. As many of the features involve some Japanese person or people talking throughout this might not be terribly useful for fans who don't speak the language.
The first feature, accessed with the top left button, is an interview with the movie's director Chiaki Kon. She was director on Season III of Sailor Moon Crystal as well as both films. For whatever reason a Luna plush on a stool is featured prominently in the center of the screen while Chiaki Kon is off to the side. The interview is 9m46s but you can watch a three minute preview on YouTube.
Next, the top right option, is an interview with character designer Kazuko Tadano who also worked on the original Sailor Moon anime. It's hard to ignore the one very distracting aspect of this interview which is the large cartoon face which is superimposed over her face in every scene. I recall seeing Kazuko Tadano at Otakon in 2008 where she seemed to have no qualms about being seen in public. I recorded a panel she was on and my camera ended up losing the footage. Perhaps her image can't be captured on camera! This feature is 10m30s and a short preview can be seen on YouTube.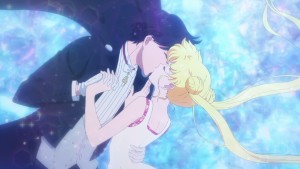 The next feature is a Moon Effect music video. This is a long clip from the film only the actual dialog and sound effects are removed keeping only the song itself. The video is 6m11s long.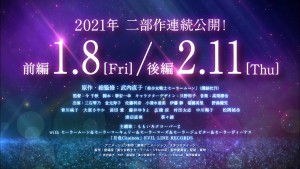 Next up is a series of trailers and ads for the film. Having seen a lot of these I think I may have seen them all but it's so hard to tell at some point as many commercials and trailers reuse a lot of the same footage over and over again. The whole thing is 7m10s.
After this we have a 20 minute interview with the main cast of Sailor Guardians and Nehelenia from the first film. This, like many of the interviews, occurs on stage. This includes Kotono Mitsuishi, the voice of Sailor Moon, Hisako Kanemoto, Sailor Mercury, Rina Satō, Sailor Mars, Ami Koshimizu, Sailor Jupiter, Shizuka Itō, Sailor Venus, Misato Fukuen, Sailor Chibi Moon, and Nanao, the voice of Nehelenia. A short preview can be seen on YouTube.
We then have an interview with Kotono Mitsuishi and the voices of the Amazon Trio. By all indications this nearly 22 minute video is hilarious, but I have no idea what they're really saying. At one point they do a game where there are four options per question and … well I don't know what the questions or answers are. Check out a preview on YouTube.
Next we have all of the Sailor Guardians' voices from both films in princess dresses. They all look quite lovely! Throughout this 18 minute clip we see them all answering various questions while wearing evening gowns which are colour coordinated to suit the Sailor Guardians they voice. There's a lot of posing for photos going on. This preview is on YouTube.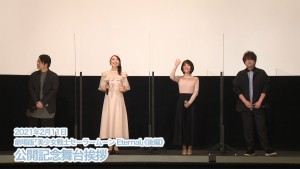 Finally we have a stage interview with the voices of Chibiusa, her mom and her two boyfriends. This 21 minute interview includes Kotono Mitsuishi, the voice of Sailor Moon, Misato Fukuen, Sailor Chibi Moon, Kenji Nojima, Tuxedo Mask, and Yoshitsugu Matsuoka, Pegasus. I can't tell if Yoshitsugu Matsuoka is really nervous, doing a bit or both. Is this Bob Newhart level awkward comedy or perhaps some sort of thing that women find appealing? Really not sure. One fun part of this feature is a wild crescent moon shaped flower arrangement. As with the other features you can watch a short clip on YouTube.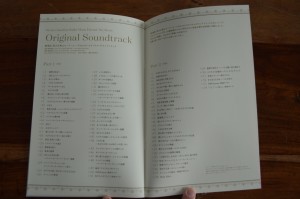 The 3rd and 4th discs are audio CDs. Disc 3 is the soundtrack for Sailor Moon Eternal Part 1 and Disc 4 is the soundtrack for Part 2. The labels on the discs themselves indicate this and the track listing in the booklet also breaks them into "Part 1″ and "Part 2″. Both have large numbers of tracks as well as TV sized versions of the songs included in them. Disc 3 has more tracks which may be because of music which is used in both films appearing on this soundtrack. I haven't done a detailed study of each track and identified where it appears in each film, but it seems to mostly be broken up by the films. The part 1 soundtrack has 51 tracks, 49 of which are fairly short instrumental tracks. Track 50 is Moon Color Chainon, the theme song for the films. At 2m35s it is a shorter version of the song, with the full length version being 4m20s. Track 51 is the movie sized version of Watashi-tachi ni Naritakute (Wanting to Be Together with You) by Yoko Ishida which is only 1m32s as opposed to the 5m17s full length version.
The part 2 soundtrack is similar but with only 34 tracks, most of which are are instrumental. Track 28 is the full version of Moon Effect which is a whopping 6m12s, like the version on the Sailor Moon Eternal character song album. Track 33 is another TV length version of Moon Color Chainon. At 2m34s it's one second shorter than the version on the part 1 soundtrack. I guess one of these is the one with Momoiro Clover Z and one is the version with the voice actors but I honestly can't tell the difference. Track 34 is the movie sized version of "Rashiku" Ikimasho (I'll Go As Myself) cover by Anza. This version is only 1m34s. The full length versions of all of the songs on these soundtracks were previously released on the Eternal Edition of the Moon Color Chainon album. It seems like none of the tracks on these soundtrack CDs are available elsewhere, except for the full length version of Moon Effect.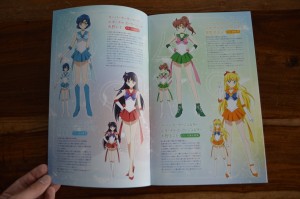 Also included is a special booklet. I've included photos of each of the pages with most being at the end of this post. This starts off with character art for all of the characters in the movies. Next is a "Cast Comment" from each of the voice actresses portraying the Sailor Guardians. We then have the "Character Design Comment" which shows us individual art of each character which was used for the cover art. I think that cover image is quite amazing so it's nice to see each character with a bit of detail here. We then have a "Key Animation Gallery" which shows storyboards and how they compare to images from the final product. There is then an "Event Report" which seems to give a bit of a description for a number of events related to the promotion and release of the film. A "Music Review" discusses the new songs featured in the film. There is then an "Interview" but it's not entirely clear to me who that interview is with. Finally there is the track listing for the "Original Soundtrack", the 3rd and 4th discs in this set.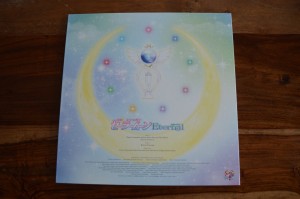 So what's the verdict? Is this set worth getting? Since it's a Japanese only release with no English subtitles or audio for the films or any features, this has a limited appeal. While the movies are available to stream on Netflix the features in this set are most certainly not. The music soundtracks are the only way which is currently available to get most of the songs included, so that's an aspect to consider. It's worth noting that even though such a thing hasn't been announced yet it seems quite likely that international versions of this film will be released in time. I expect a North American English DVD and Blu-Ray release will come eventually. That version will likely have Japanese audio as well as English audio and subtitle options. So why get this one? International releases (meaning outside of Japan) will likely include few to none of the special features in this release. Instead I would expect some cast interview with English voice actors and some character art. As always, we'll be sure to share any info about such a release if and when we hear anything.
Keep reading for more images of the set including photos of all pages of the booklet.