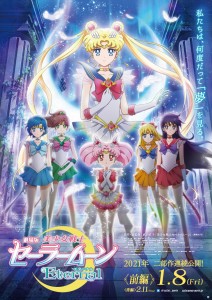 The Sailor Moon official site has been updated with details about the upcoming Sailor Moon Eternal home video release which is coming on June 30th, Usagi's birthday. We previously mentioned that there were a number of versions of this release, including the Limited Edition DVD and Blu-ray releases which are packed with extras. The bare bones versions of both the DVD and Blu-ray do not appear to have any of the extra features but instead simply include the two Sailor Moon Eternal films.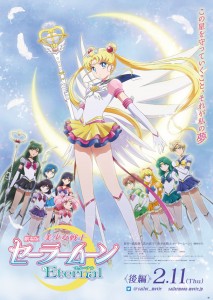 Both the four disc limited edition DVD and Blu-ray have similar features with the Blu-ray obviously having HD 1080p video while the DVD has a standard definition, almost certainly 480p, video. The contents are as follows:
Disc 1: The actual movies, both on a single disc, with audio commentary provided by Misato Fuken, the voice of Chibiusa, and Kenji Nojima, the voice of Tuxedo Mask, on both films. Sailor Moon Eternal Part 2's commentary also features Yoshitsugu Matsuoka, the voice of Helios/Pegasus.
Disc 2: Bonus features which includes a music video for the character song "Moon Effect", a collection of promotional videos for the film, footage of the film's premiere, a video of an Amazon Trio night, a completion report interview (?), a stage greeting (?) and interviews with Chiaki Kon, the director of the films, and Kazuko Tadano, character designer and animation director of the films. I don't understand what all of these features will be.
CD 1 and 2 are still only described as being the Sailor Moon Eternal drama collection and will include the movie versions of Moon Color Chainon and Moon Effect. This certainly isn't enough to fill two audio CDs so I think it's safe to say we don't have all of the details we could have about these.
A special booklet measuring 28cm x 17.5 cm or roughly 11″ x 7″.
Ultimately a lot of these features are very much in Japanese and audio or dialogue centric making them difficult for fans who don't actually speak Japanese to get much out of. With the movies coming to Netlix weeks before this video release this might not be a worthwhile purchase for everyone!
While I usually order my Sailor Moon videos and CDs from Amazon Japan, this has become impossible lately. This release is not in stock and I don't know if it ever will be. CD Japan seems to be a popular option with fans. I can't say I enjoy paying more in shipping and import fees than the actual price of a product. There are also versions with pre-order exclusive bonuses such as figures which are even harder to get outside of Japan. There are proxy services which will allow you to get these. I don't have much experience with these.
Are you looking to pick up this set? If so, where are you planning to buy it from?