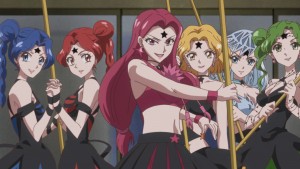 The latest episode of Sailor Moon Crystal aired on Japanese TV Monday May 30th at 11pm Japan Standard Time. Shortly afterwards, starting at 10:30am Eastern Time, it was available to stream on Crunchyroll, Neon Alley and Hulu. Act 34, Infinity 8 – Infinite Labyrinth, has Chibiusa dead and the gang reluctantly fighting to save her.
First off we have a new opening theme. Once again it's In Love With the New Moon but this time sung by Momoiro Clover Z. They sang Moon Pride, the opening theme for the first two story arcs. This version is fine but I prefer the first version by Etsuko Yakushimaru. Not sure I have much else to say about that. Momoiro Clover Z seems like a perfectly mediocre J-Pop band.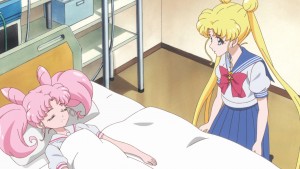 Chibiusa is dead. The day fans have been waiting for since the 90s is here! With her soul ripped out, Chibiusa's body dies. The doctor announces quite clearly that she went through cardiac arrest and then passed away. All hope is not lost though, as Mamoru is able to keep her alive through some sort of healing touch. It's as if he's able to keep her blood pulsing with his heart which only makes sense considering he has magic healing powers. In the manga he mentions that her body is so small that supporting her is easy, but in Sailor Moon Crystal we get the impression that this is draining on him.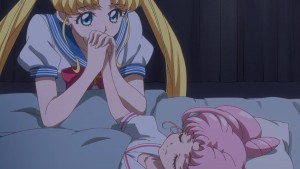 Usagi is heartbroken by this, and really feels as if Chibiusa is dead. What option is there to save her? Well they just need to kill Hotaru! Actually they don't have to kill anyone, they just need need to defeat Mistress 9. Not every enemy needs to be killed when they're defeated! Oh right this is the manga version where Sailor Moon kills pretty much anyone. Original anime Sailor Moon seems to win over and heal more villains. Anyway the trolley problem is a bit different now. Instead of kill Hotaru vs. the world it's Hotaru vs. Chibiusa vs. the world. And now the trolley has run over Chibiusa and is heading towards the world and pulling the lever will make it roll back in time, bringing Chibiusa back to life and then killing Hotaru. I'm not sure I want to attempt to illustrate that. So much to say despite hesitation everyone, including Mamoru, supports the idea of moving forward and trying to get Chibiusa's soul back.
The whole thorn thing seems to be new to Sailor Moon Crystal. There are thorns around the building at Mugen Academy which makes it seem something like when the Makaiju grew all over the apartment building in Sailor Moon R. There are thorns and roses all around the lobby. What's more Hotaru's soul, which we see occasionally inside of Mistress 9, is held down by thorns. The manga doesn't have this level of thorniness, and Hotaru is just seen sort of floating around in nothingness. This is a sort of physical visualization of the way she's restricted inside of Mistress 9. All this really means is that Hotaru is still alive, so there's still hope.
The Witches 5 return and now there are 6. Everyone seems to be getting a dream of something they would like. Sailor Mars sees a version of Eudial which pretty much just want to make out with her. She pins her down holding her hand and seems to want to kiss her. Did I ever mention that Eudial is my favourite of the Witches 5 and that Sailor Mars is my favourite Sailor Guardian? I'm totally shipping these two. The rest of the gang are presented with predictable things. Sailor Mercury sees a powerful artificial intelligence supercomputer, which is cool but probably nothing compared to the supercomputer on the Moon which has the consciousness of Queen Serenity uploaded to it. Sailor Venus holds a microphone for a while but doesn't actually sing, which is disappointing. Sailor Jupiter likes flowers. The recurring theme is making them all want to quit being Sailor Guardians.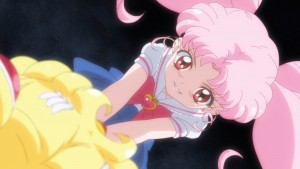 Sailor Moon gets a whopper of a dream. Chibiusa tries to choke and kill her! This is fake, unlike the time Chibiusa tried to shoot her in the head! This really is a great episode for Chibiusa haters! Sailor Moon doesn't buy it though.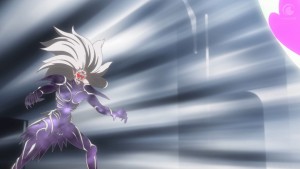 Turns out Kaolinite is actually a monster! This is not in the manga and new to Sailor Moon Crystal. She transforms into this weird kind of Daimon who the Sailor Guardians quickly dispose of. We see a couple of new attacks with Sailor Neptune's Submarine Reflection, which is awesome, and Sailor Pluto's Chronos Typhoon, which is completely disappointing.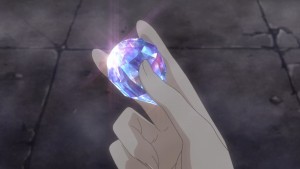 To wrap up the episode Mistress 9 eats the Chibiusa's Silver Crystal! How terrible! Does she even know that Chibiusa's soul is in there? Good news for Hotaru though. She'll have some company inside of Mistress 9.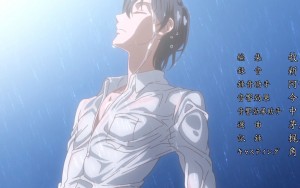 Next is the new ending theme, Only Eternity Brings the Two Together, sung by Kenji Nojima, the voice of Tuxedo Mask. This ending theme contains wet shirt Mamoru which I find looks like something out Yaoi fan art. I guess some readers will appreciate this!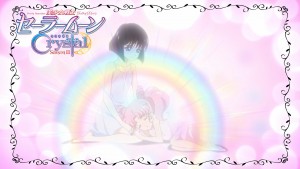 Next week is Sailor Moon Crystal Act 35, Infinity 9 – Infinite Labyrinth 2. Mistress 9 has reunited Chibiusa and Hotaru inside her being. Isn't that great! Even in death these two good friends can hang around together! We'll also see naked Usagi in this episode if that's something that interests you.
Keep reading for more images of this episode and the next episode preview for Act 35.