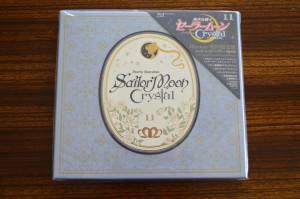 Late as usual here is my review of the 11th volume of Sailor Moon Crystal on Deluxe Limited Edition Blu-Ray. This volume was released on August 12th and includes two episodes, Act 21 and 22, in a collectible set which includes a 20 page colour booklet and charm of Sailor Venus's Star Power Stick. You can order this from Amazon Japan and other online retailers for about 5,194 yen, about $43 US, plus a ton of shipping. The next volume, volume 12, will be released next week on September 9th.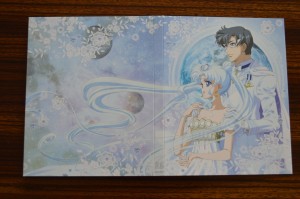 The art on the cover of this volume is of Neo Queen Serenity and King Endymion, the future versions of Sailor Moon and Tuxedo Mask. Since a lot of this second story arc takes place in the future these characters feature prominently in the episodes on this disk.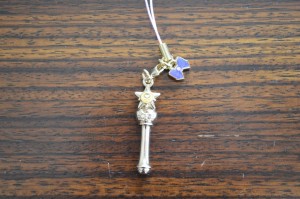 The charm included this time is Sailor Venus's Star Power Stick. As with all of the other ones you can put them all together on a charm bracelet and be really cool.
Included are Act 21, Complication – Nemesis, and Act 22, Hidden Agenda – Nemesis. These two episode are based on two chapters of the manga from the versions which were released in 2003 however both episodes were originally a single manga chapter, Act 20, Complication – Nemsis. Because of this the pace may seem a bit slow.
Like with other releases there are a number of mostly minor changes to the animation. These mostly result in touch ups which make the animation a bit nicer looking and very occasionally results in more significant changes to what appears on screen. I'm unable to take screenshots of Blu-Rays with my current AV setup but a great site for examining these differences is Crystal Comparisons.
Almost nothing of significance is changed for Act 21. In one scene a chair is added behind Usagi mostly to compensate for an earlier continuity issue where a chair disappeared and then reappeared behind her. Other than that the changes are mostly cosmetic.
The next episode previews remain unaltered. I've mentioned Chibiusa's shirt gate time and time again. The next episode preview for Act 22 which appeared at the end of Act 21 originally included her blue long sleeved uniform, which was an error, and that uniform still appears in this version. This had been corrected in the streaming version of Act 22 and is still corrected on this release.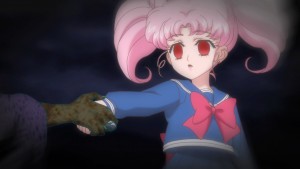 If you check out the changes for Act 22, you'll note some changes for the appearance of Black Lady. In the original streaming episode Black Lady first appeared pretty much as a shadowy black figure with glowing eyes who later became more visible. The intention was, and still is, to obscure her identity. Now in the Blu-Ray we see her as being more transparent and smokey than previously in her first appearance and then darker in her later appearance. It seems to do the job better, but was anyone really still wondering what her true identity was at this point? There are a couple of other minor changes to this episode. When Usagi is possessed by Neo Queen Serenity her eyes glow and in the streaming version they are a bit darker. The reactor effects have been redone a bit to add some circles around the main column of energy. We also see the Sailor Guaridans standing behind Sailor Moon in one scene where we previously didn't.
Both episodes include an audio commentary. These feature Munehisa Sakai, director of Sailor Moon Crystal, Kenji Nojima, the voice of Mamoru Chiba and Misato Fukuen, the voice of Chibiusa.
Also included is the 20 page full colour special book. This one features the usual episode summaries, character designs, backgrounds, page for Osabu and two interviews. The first interview is with Momoiro Clover Z, the musical group which performs the Sailor Moon Crystal opening theme, Moon Pride, and ending theme, Gekkou. The second interview is with the four voice actors who portrayed the Ayakashi Sister. Wasabi Mizuta provides the voice of Petz. Rumi Kasahara, who provides the voice of Berthier, had previously voiced many small roles in the original Sailor Moon anime including Ptilol of the Witches 5. Tomoe Hanba voices Calaveras and Satsuki Yukino provides the voice of Koan.
As always I recommend this only to hardcore fans. English speaking fans should contend with the streaming version until the eventual multi language Blu-Ray is released by Viz. This is a cool set with some cool stuff in it, but it's hard to justify the price tag for two episodes.
Keep reading for more photos of the set including all 20 pages of the special book.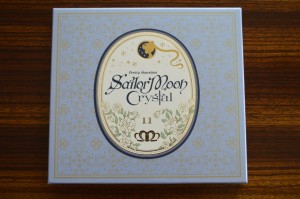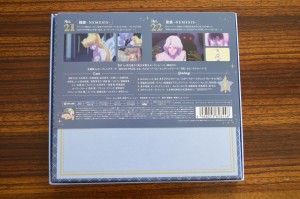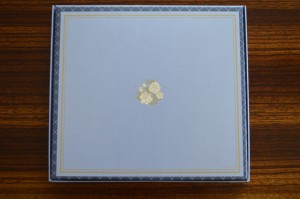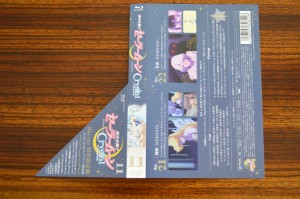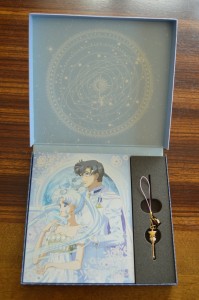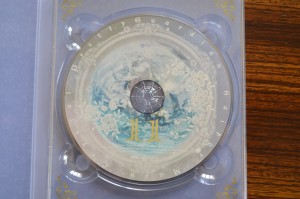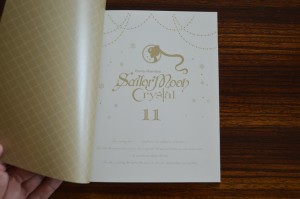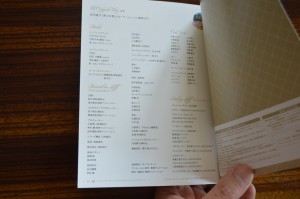 Possibly Related Posts