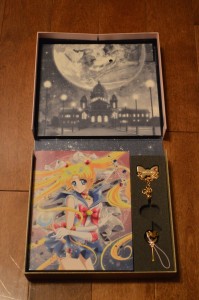 The first volume of the Sailor Moon Crystal DVD and Blu-Ray was released on October 15th. There are a few versions of this release at different price points. I ordered the Deluxe Limited Edition Blu-Ray version. This release only contains two episodes of the series, act 1 and 2, showing us the introduction of Usagi and Ami. You can order the volume 1 deluxe limited edition Blu-Ray (Amazon Japan, CD Japan), regular edition Blu-ray (Amazon Japan, CD Japan) or DVD (Amazon Japan, CD Japan). The deluxe limited edition has a lot included, but at 5994 yen (about $53 US) it's a hefty price tag for only two episodes. These are Japanese discs. The Blu-Rays are region A meaning they will play in a North American Blu-Ray player or PS3, but there are no English subtitle or audio tracks.
The packaging is impressive. The first thing you will notice when opening to box is that it plays the Moon Pride theme song. Inside are the Moon Stick charm and charm bracelet. Should you choose to continue to spend large amounts of money on the limited edition Blu-Rays you will be able to collect the other 12 charms.
Also included are two books. The first includes art from the show, episode summaries and interviews with Munehisa Sakai, director, and Kotono Mitsuishi, the voice of Sailor Moon. The second is a book of storyboards of the opening and ending themes for the series.
There is not a ton to the Blu-Ray itself. As mentioned there are only two episodes, which auto play when the Blu-Ray is started. As we previously mentioned there are some scenes which have been reanimated since the original streaming version was released. This includes the changes to the intro. For example, Queen Serenity has white hair in the intro instead of being blonde like in the intro for the first two streaming episodes. These changes are minor and cosmetic. It doesn`t fundamentally change the experience of watching the show. Overall the video quality is quite good, which is not surprising as the Crunchyroll HD feeds were comparable. The disc has some special features. Mainly the textless opening and ending themes. There are also two audio commentaries, though as they are in Japanese I did not find much use in listening to them.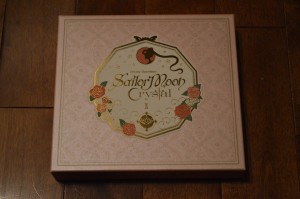 Overall this set is expensive and while there are a decent amount of cool knick knacks, only including two episodes lowers the value. If you're a collector or completist, it may be worth picking up, but if you're just looking to watch the show, the streaming versions are perfectly acceptable. It's quite likely there will be an eventual North American Blu-Ray release with English audio and subtitles. Fans who don't like to watch their anime raw may prefer to wait for such a release. If you're looking to watch the updated animation with English subtitles, you can download them from Sailor Moon Center. As of posting this article only episode 1 has been released (720p, 1080p), but episode two should follow shortly.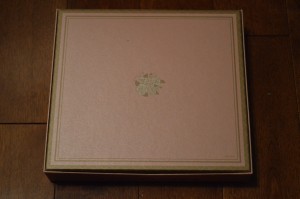 Keep reading for more photos of the set.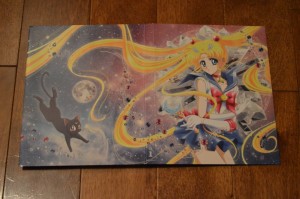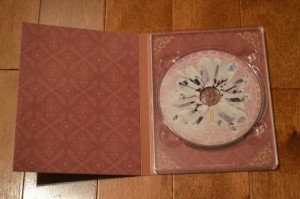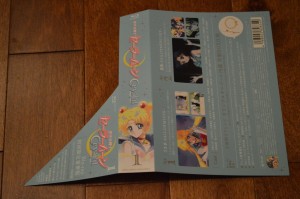 Possibly Related Posts