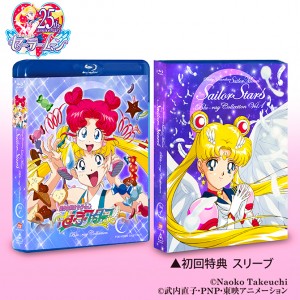 Great news for Sailor Moon fans who are really picky about video quality and don't like having money! The final season of the original Sailor Moon anime, Sailor Moon Sailor Stars, will be released on Blu-Ray in Japan with volume 1 coming November 13th and volume 2 coming January 8th 2020. This follows decent but expensive releases for the first four seasons of the original Sailor Moon anime. While the quality of these has generally been better than what was released by Viz, these are still HD upscaled versions of standard definition source material. By this I mean to say that TOEI did not go back to the film source to get these HD versions but has done post processing on the same masters used for their DVD releases many years ago.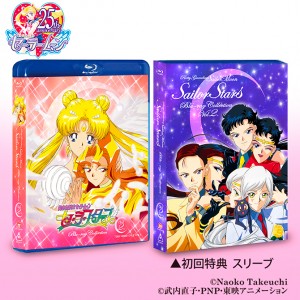 The cost of these is certainly not cheap! MSRP for each volume is 14,800 yen, about $136 US. You can already pre-order the standard or vendor exclusive versions of volume 1 from Amazon Japan. Having just watched the first Sailor Stars set released by Viz and been fairly happy with the video quality it gets harder and harder to justify getting these sets, which only include Japanese audio and no subtitles! Certainly the video quality of the earlier seasons is the worst of the Viz releases and every season the sets look a little better. It's easy to assume this is due to Viz doing a better job, which is certainly part of what's going on, but I also think it's just a matter of the masters for the series looking better for the later seasons. The ADV DVD releases of Sailor Moon's first season and Sailor Moon R were horrendous but the Pioneer DVD releases of Sailor Moon S and SuperS were much better looking for the same reasons.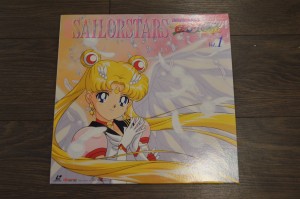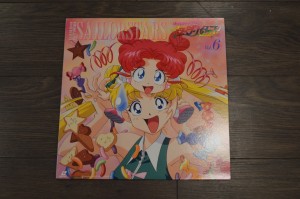 The art which we've seen looks quite good. As with previous releases this is box art which was originally used for the initial VHS and laserdisc releases. This art is done by Katsumi Tamegai who was an animation director for many episodes throughout the Sailor Moon series, including the final episode. This art was also used for the Japanese DVD release. Volume 1 has an image of Eternal Sailor Moon on the outside and Usagi with Chibi Chibi on the inside, though she'll only show up for the last two episodes of the set. I've included images of the laserdiscs for reference throughout this post.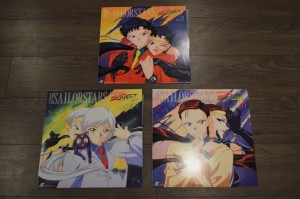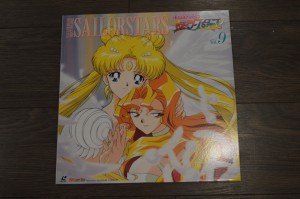 The outer cover for volume 2 is an amalgamation of three different laserdisc covers showing each of the Sailor Starlights and their civilian Three Lights counterparts. The inside shows Princess Serenity and a less evil Galaxia which I suppose is a bit of a spoiler!
Included in volume 1 are episodes 167 to 183 while volume 2 will have episodes 184 to 200. This is the same breakdown Viz used with their release as it splits the season evenly with 17 episodes per set. The special features are much like what we've gotten with other releases. This includes low quality (non super) creditless versions of the opening and ending credits and 15 second commercials for each episode. A booklet with episode descriptions will also be included.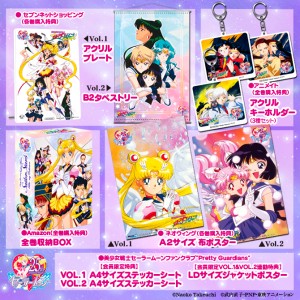 As always we have vendor exclusives for a number of retailers. You can see them shown in the image above. It isn't always obvious what these are! Members of the official Sailor Moon fan club who order the set through the club will get A4 sized sticker sheets with each volume as well as a laserdisc jacket sized poster for buying both volumes. We don't know what images those will include at this time. A4 size is roughly equivalent to a standard 8.5×11″ letter piece of paper. A laserdisc jacket is roughly the size of a vinyl record jacket.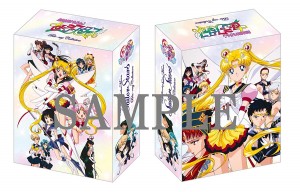 The Amazon exclusive which is available to customers buying both volumes is a box to house both sets which has art similar to the laserdisc box which housed all of Sailor Stars.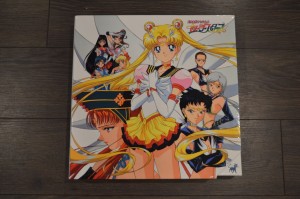 The Animate exclusive, which is available only to those ordering both volumes, is a set of three acrylic key rings. Each features an image of one of the Sailor Starlights with their Three Lights alter ego from the box art.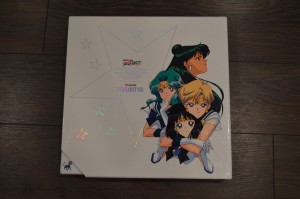 The Seven Net exclusive for volume 1 is an acrylic plate, which I believe is what is sometimes called a pencil board, showing an image of Eternal Sailor Moon and the Sailor Guardians. The exclusive for volume 2 is a B2 sized tapestry featuring an image of Sailor Uranus, Neptune, Pluto and Saturn which was originally on the back of the Sailor Stars laserdisc box. B2 size is about 20″x28″.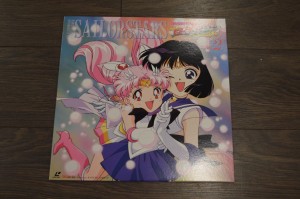 Finally the Neo Wing exclusives are a separate A2 sized cloth poster which comes with each volume. These are images of the first two laserdisc covers, that being Eternal Sailor Moon for volume 1 and Sailor Saturn and Sailor Chibi Moon for volume 2. A2 size is about 16.5″x22″.
Have any of you been buying these sets?