Although the first half of Sailor Moon Sailor Stars will only be released on Blu-Ray and DVD on June 18th those same episodes, with English dialogue for the first time in an official release, can now be purchased from Amazon Prime Video. This includes the first 17 episodes of the 5th and final season of Sailor Moon. Individual episodes cost $2.99 while the entire season costs $39.99. This is less expensive than even the standard edition Blu-Ray which is currently listed for $59.99 on Amazon. If you're interested in purchasing it you can support the site but buying it using the link below.
It seems that these episodes are only available for purchase and not part of the Amazon Prime streaming service. If you're more interested in getting a physical copy of Sailor Moon Sailor Stars which will also include the original Japanese audio with optional English subtitles than you can pre-order that from Amazon using the links below.
Thanks to moonkitty.net for the heads up.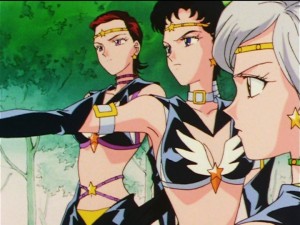 Possibly Related Posts