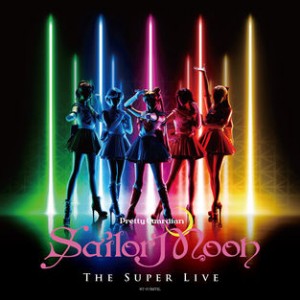 As the Pretty Guardian Sailor Moon The Super Live musical was being performed in the United States the soundtrack from the musical was released on iTunes and Apple Music around the globe! While Sailor Moon soundtracks are often just released in Japan this time the album is available on iTunes stores worldwide! The announcement on the official Sailor Moon site included direct links to the Japanese and US iTunes stores. I was also able to find it in the Canadian iTunes store with a little searching. If you have trouble finding the album in your store try searching for "Pretty Guardian Sailor Moon" as there are a lot of results for "Sailor Moon". I've never used Apple Music but I assume a similar search would get you what you need.
Something important to note is that these are only the instrumental versions of the songs in the musical, meaning there are no vocals included! I'm not sure why they wouldn't include the complete versions of the tracks but a couple of fans on Twitter mentioned that all but a handful of the songs in the musical didn't have lyrics. It seems like this album isn't missing much by omitting the vocals.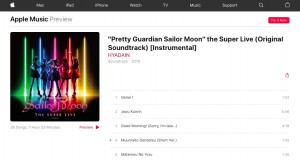 Pricing is a bit inconsistent! The Japanese price is 2400 yen, which is about $22.50 US. The US price on the other hand is $15.99 US! Good deal. The Canadian price is $15.99 Canadian which is an even better deal since that's the equivalent of about $12 US. I'm so used to paying $80 Canadian for a game that costs $60 in the US so this was a nice surprise. I'm used to import CDs and DVDs in Japan being absurdly expensive so being able to pay almost half of the Japanese price is a nice change.
As I haven't seen this musical yet, it's hard for me to comment much on these tracks! The songs are quite good from what I can tell with a fun electronic sound and some nice throwbacks to music from the original anime, but this is a musical that's meant to be seen and heard so I'm really only getting a part of the experience!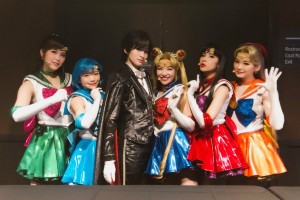 The track titles are either hilarious or terrible, depending on how you choose to look at such a thing. It's a mix of romanized Japanese, actual English words and romanized versions of Japanese translations of English words. This makes for things like "Seeraa Gaadianzu" instead of "Sailor Guardians". I've included two track lists below. The one on the left is the better version from the official site which uses English words when the words are English and otherwise uses romanized Japanese. The listing on the right is the mess we get on iTunes! With a little effort one should be able to update their own track title info in iTunes.
1. GeneiⅠ
2. Joou Kunrin
3. Good Morning! (Sorry,I'm late…)
4. Moonlight Legend (Short ver.)
5. Matenrou no yoru
6. Ecole!School Gakkou Gakkou
7. Metamorphosis
8. Barairo no Tatakai
9. Koisuru Usagi
10. BestFriends
11. HARAJUKU KAWAII
12. Go to the Arcade!!
13. Ordinary days
14. 「OI,ODANGO!」
15. 「KOKOKARA DASE!」
16. Electro Go Round
17. We are Sailor Guardians
18. Tousouchu
19. Otome no Policy (ballade ver.)
20. Shinshoku
21. GeneiⅡ
22. Welcome to Dark Kingdom
23. Strike Back
24. GeneiⅢ
25. Aijou
26. Omoi, Soshite
27. La prière
28. On the Moon
29. Moon Crisis Re;Make Up
30. Dance De Medley
31. Otome no Policy
32. Everlasting Light of the Dark Kingdom
33. A Single Rose
34. La soldier
35. We are Sailor Guardians

[Album bonus track]
36. Moonlight Legend

1 Genei I
2 Joou Kunrin
3 Good Morning! (Sorry, I'm late…)
4 Muunraito Densetsu (Short Ver.)
5 Matenrou No Yoru
6 Ecole! School Gakkou Gakkou
7 Metamorphosis
8 Barairo No Tatakai
9 Koisuru Usagi
10 BestFriends
11 Harajuku Kawaii
12 Go to the Arcade!!
13 Ordinary Days
14 "Oi, Odango!"
15 "Kokokara Dase!"
16 Electro Go Round
17 Watashitachi Seeraa Gaadianzu (Battle Ver.)
18 Tousouchu
19 Otomeno Porishii (Ballade Ver.)
20 Shinshoku
21 Genei II
22 Welcome to Dark Kingdom
23 Strike Back
24 Genei III
25 Aijou
26 Omoi, Soshite
27 La Prière
28 On the Moon
29 Moon Crisis Re; Make Up
30 Dance De Medley
31 Otomeno Porishii
32 Tokoyami No Daaku Kingudamu
33 Ichirin No Bara
34 La Soldier
35 Watashitachi Seeraa Gaadianzu

36 Muunraito Densetsu
With the difficulty that often comes with importing expensive Sailor Moon media internationally it certainly is nice to see a release like this being worldwide. With the recent musicals having more and more showings outside of Japan this really is a move in the right direction for fans across the globe. Supporting releases like this is likely to have more visibility to those who are marketing Sailor Moon than simply importing goods. We can only hope that future Sailor Moon soundtracks will get a similar release. Some day I would certainly like to see a Sailor Moon musical released on video outside of Japan! Who knows what the future will bring? A lot could happen in the decades to come before Sailor Moon Crystal is wrapped up!
Possibly Related Posts