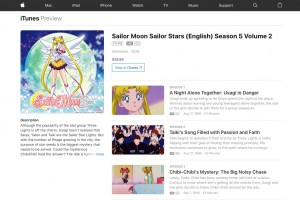 The physical release of Sailor Moon Sailor Stars Part 2 is less than two weeks away which means the series is now available to purchase digitally from a number of online retailers. The series is available to purchase separately for the English dubbed episodes or in Japanese with English subtitles. The retailers currently offering the series are iTunes, the PlayStation Store, the Microsoft Store and Google Play. Strangely absent is Amazon Prime Video who had Part 1 up for sale two weeks before that set was released physically. The Amazon Video page for Sailor Moon does not include these final 17 episodes of the series.
With these episodes now available the entire Sailor Moon series is available in English for the first time ever! Since Sailor Stars was never dubbed with the DiC/Cloverway dub of Sailor Moon the Viz dub is the first and only official English version we've gotten.
Buying digital downloads of the original Japanese version with English subtitles seems unwise as the series was available for free in this format for quite a while on Hulu. The service is now only available for paying customers who can still stream the series in its entirety in Japanese with English subtitles as well as the first four seasons in English. Sailor Moon had been streaming for free on Yahoo! View but that service no longer exists. Canadians can stream the entire series in Japanese with English subtitles on TubiTV. This is a free streaming service with ads.
Have any of you downloaded this version to listen to the end of the dub of Sailor Moon Sailor Stars? If so what did you think? If you're holding off for the physical release you can support the site by pre-ordering it from Amazon using the links below.