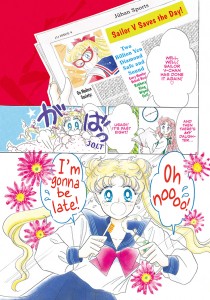 Great news for Sailor Moon fans who hate paper, or don't have a lot of paper in the form of money, the Sailor Moon Eternal Edition manga is now available digitally through a large number of ebook retailers in English and in nine other languages. This was announced as part of Usagi's Birthday event on June 30th and the digital versions have been available since July 1st. Details can be found on the Japanese site, which includes 30 page previews in all languages, or the Kodansha site which includes links to all US distributors. Options for English fans in the US include Amazon Kindle (which includes comiXology) for $7.67 per book (all prices in US dollars), comiXology for $13.77 per book, Book Walker for $12.47 per book, Google Play for $9.99 per book, Apple Books for $9.99 per book and Kobo for $11.19 per book.
Using the links above you can order the Amazon Kindle version. The adds show the price as $13.99 but after clicking on them it shows up as $7.67 for now. The page mentions that this also includes a comiXology version, though I'm not familiar with how that service works. This does seems to be the best price of all of the versions. Since both Kindle and comiXology have apps which run on modern phones and tablets, this should be a good option for many fans, though those who have libraries on other services may find it's worth an extra few dollars to purchase it from another retailer. Whatever option one might chose, this digital version is a fraction of the price of the fairly expensive print versions of the large size Eternal Edition of the manga.
| | |
| --- | --- |
| | |
One advantage of the digital version is that without the crease of a physical book you'll be able to see all details of two page spreads! What are the differences and advantages of one platform over another? I can't say I'm familiar enough with either to have a preference. While I have a functional and recent iPhone I only have a very old hand me down iPad which doesn't run newer versions of apps so I don't think this is something I will be getting, what with the countless paper versions of the manga I own. I'd be curious to see what this site's users are deciding to use, if any. Let us know in the comments!