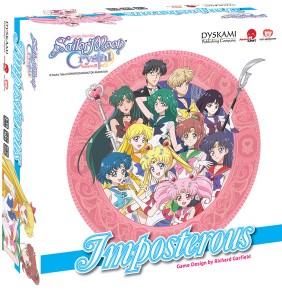 Update 2021-12-15: Dyskami Publishing has mentioned via Twitter that the game has been delayed a few months due to supply chain issues so we should not expect it by January 31st. They have also mentioned that the game play is similar to that of Hive Mind by Calliope Games.
A new Sailor Moon Crystal board game is coming from Dyskami Publishing. The game, called Sailor Moon Imposterous, is listed on the Right Stuf web site with a release date of January 31st 2022. Despite this listing which includes box art the game has not yet been announced on the Dyskami web site or any of their social media pages.
MSRP for the game appears to be $39.95 US. From the description and box we can see that this game is based on Sailor Moon Crystal Season III, even though the Sailor Moon Eternal films have been released since Dyskami last released a Sailor Moon game. The following details are available from the manufacturer:
About Sailor Moon Imposterous Game
Sailor Moon Imposterous is a game for 3-12 players with approximately 30-60 minutes of game play per round.

The Deathbusters have captured someone from the Sailor Guardians team and replaced them with a Daimon imposter! Fortunately, Luna and Artemis discovered their evil plot and now everyone must work together to identify the pretender. By asking the characters a series of questions and then comparing the answers for ones that don't align with the rest of the group, the cats can unmask the imposter and direct the rescue of the captured team-mate before it's too late.

Details
Publisher: JAPANIME GAMES
Media: RPG/Board Games
Genre: Fantasy, Romance
Themes: Battles, Magical Girl
Age Rating: 10+
Release Date: 1/31/2022
Dimensional Weight: 4
It's hard to tell any specifics about the gameplay from that summary. Let's hope that Dyskami Publishing releases more details about this game prior to its release.
Dyskami previously released the Sailor Moon Crystal Dice Challenge game in 2018 and the Sailor Moon Crystal Truth or Bluff game in 2019. I was quite happy with both of those releases from the company and look forward to getting this new game. As the company is based in Canada I hope to be able to order directly from them as was an option in the past.
Do you plan on picking this game up? What did you think of the other Sailor Moon Crystal games by Dyskami?
Source: Right Stuf via Sailor Moon Fan Network