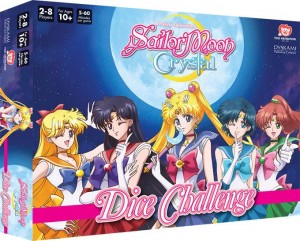 The upcoming Sailor Moon Crystal Dice Challenge game is now available for pre-order on the Dyskami web site for $35. The game should be ready to ship in April or May of this year. The pre-order page includes a bunch of details about the game including photos of what's included. As an incentive those who pre-order the game now will get a special Sailor Pluto game card and Sailor Moon Crystal Dice Challenge poster. The pre-order is a crowd funding campaign with a goal of $10,000 dollars and it seems likely that it will hit that goal before the deadline of March 9th. A video included on the page shows the game being played at the pre-release tournament held in Guelph in December. You can watch it below.
The game will ship to the US or Canada. Unfortunately it can't be shipped elsewhere due to limitation of the licensing deal between Toei and Dyskami. The game is set to be released in May.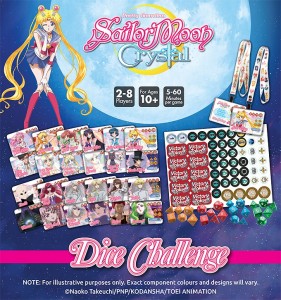 At this point we have images of all of the cards included with the game and the characters cover the Dark Kingdom and Black Moon story arcs of Sailor Moon Crystal. For heroes we have Sailor Moon, Mercury, Mars, Jupiter, Venus and Chibi Moon as well as Tuxedo Mask, Luna and Artemis (as a single card), Queen Serenity, Princess Serenity, Neo Queen Serenity and King Endymion with Sailor Pluto as a pre-order exclusive. For villains we have Jadeite, Nephrite, Zoisite, Kunzite, Queen Beryl, a generic Droid, Esmeraude, Rubeus, Saphir, Prince Demand, Black Lady and Wiseman.
I've got my game pre-ordered. What about you?
Possibly Related Posts