A commercial has been released for the Sailor Moon The Miracle 4-D ride which is coming to Universal Studios Japan. From this commercial we can get a better idea of what the ride will look like! The CG models we saw in an earlier press image do appear to be the designs we will be seeing in this show, meaning it won't be done in the traditional animation style of either the original Sailor Moon anime or Sailor Moon Crystal. Watch the short commercial below.
Since the footage shows an actual theatre and audience reactions this won't be exactly what the ride will look like, but it seems likely that the characters and designs shown are what we will see. There needs to be audience interaction because otherwise we wouldn't have any way to realize it's actually in 3D. Remember those ads for Avatar that showed the Navi sticking their hand out and trying to grab audience members? Me neither.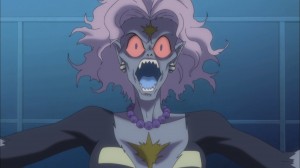 Featured in the clip is a monster which looks a lot like Morga, the monster from the first Sailor Moon manga story and the first episode of the original Sailor Moon anime as well as Sailor Moon Crystal. In those versions Morga poses as Naru's mother though it isn't clear if that will be the case here.
The final moment of the trailer shows a rose appearing. This is Tuxedo Mask's trademark however the rose is something which first appeared in the original Sailor Moon anime as it did not originate in the manga and didn't appear in Sailor Moon Crystal.
What do you think of these designs? The CG sure does look dated. With almost all western animation being done in CG these days this short ride doesn't look to be up to par even with the lower budget shows that use this kind of technology. That said the simple designs do look more like the 90s anime brought to life even though they don't resemble actual humans. This may have been an intentional style choice rather than an economic constraint. Perhaps it's a bit of both.
Possibly Related Posts