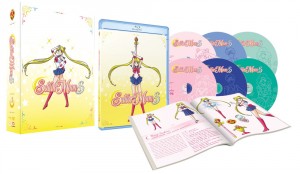 Sailor Moon S Part 1 was released on DVD and Blu-Ray yesterday, November 15th. It is available in stores across North American and from online retailers. The set includes episodes 90 to 108, which covers half of the season introducing Sailor Uranus and Neptune and then covering the return of Chibiusa. The episodes are in Japanese with English subtitles and dubbed with Viz's new cast which did Sailor Moon Crystal and the last two seasons.
The English episodes have not shown up on any streaming sites like Hulu and Yahoo! View yet. The dubbed episodes are available to view on Amazon Video. The digital price is $3.99 per episode and $39.99 for the whole half season in HD. It doesn't look like a standard definition version is currently available on Amazon Video. The entire series in Japanese with English subtitles remains available subtitled on Hulu, Neon Alley, Yahoo! View and Tubi TV.
Have you gotten your set yet? I'm still waiting to get mine in the mail! Support the site by ordering the set from Amazon using the links below.