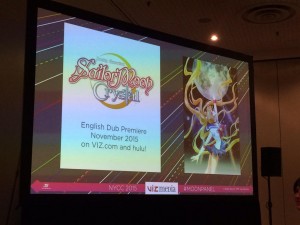 This past weekend Viz Media held their Sailor Moon Panel at New York Comic Con. We got a lot of news about Sailor Moon Crystal. First and most importantly, the dub of Sailor Moon Crystal will be coming to Hulu and Viz.com next month, some time in November. We previously learned that the dub cast would be the same cast which was used for Viz's new dub of the original Sailor Moon anime.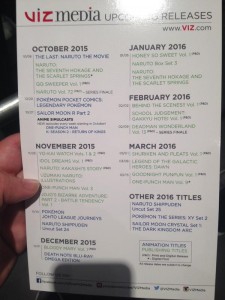 We have also learned, via a flyer of their upcoming releases, that Sailor Moon Crystal would be released on DVD and Blu-Ray in 2016. The first release is "Sailor Moon Crystal Set 1: The Dark Kingdom Arc" and will include Sailor Moon Crystal Acts 1 to 13. This Blu-Ray set will no doubt include the original Japanese and English dubbed versions of Sailor Moon Crystal, including optional subtitles. We've previously learned that Viz's version of Sailor Moon Crystal will be the updated version used for the Japanese Blu-Ray releases, which had minor changes to the animation from the original streaming version.
In casting news we have also learned the voice actors who will be playing the Witches 5, who are 6 of the new villains from the upcoming dub of Sailor Moon S. Now that the Infinity story arc of Sailor Moon Crystal has been announced in Japan, it stands to reason that this same cast will be around to voice these characters once those episodes are dubbed into English. The new cast includes some returning actors who have done other voices in the series. Erin Fitzgerald will voice Eudial. Kira Buckland will voice Mimete. Laura Post, who previously voiced a kindergarden teacher in Sailor Moon R episode 52 and the monster Amaderasu in episode 53, will voice Tellu. Cricket Brown, who previously voiced Usagi's teacher Haruna, will play Viluy. Johanna Luis, who previously voiced An the Alien also known as Natsumi in Sailor Moon R, will play both Cyprine and Ptilol who somehow count as one of the Witches 5.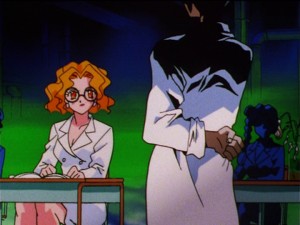 Source: @TheMatthewPaul on Twitter, @sailor_moon_na on Twitter.