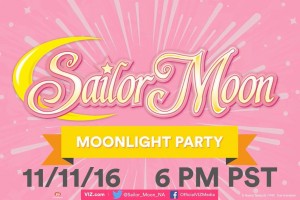 This Friday there is yet another Moonlight Party planned. These events, hosted by Viz, are a sort of online pyjama party to celebrate all things Sailor Moon. In the past most of these have been accompanied by the release of some dubbed episodes of Sailor Moon or Sailor Moon Crystal on Hulu. This is done as advertisement for an upcoming home video release. Well now we are getting a Moonlight Party ahead of next week's release of Sailor Moon S on home video and it doesn't look like there is any plan to have any dubbed episodes of Sailor Moon S released online at this time. Details for the Moonlight Party have been posted to the Facebook Page for the event and the YouTube video of the event itself. Nothing in either of these mentions that we should expect any episodes. In the past when episodes were released along with a Moonlight Party this was always announced ahead of time. There will be dub clips from the new episodes, supposedly something more than what we've already seen, as well as trivia questions, prizes and all the usual fun we get with these Moonlight Parties.
I don't post this to discourage you from joining in! The event should still be a lot of fun. I had speculated when this event was first announced that it could come with some free to watch dubbed episodes and it seems like, all things considered, this is unlikely to be the case. You can watch the event using the embedded video below. It will be at 6pm Pacific Time, 9pm Eastern Time.
Want to see some dubbed episodes of Sailor Moon S? Well then you really should order Sailor Moon S part 1 on DVD or Blu-Ray using the links below. The set comes out next Tuesday, November 15th and will contain the first half of Sailor Moon S.
Possibly Related Posts