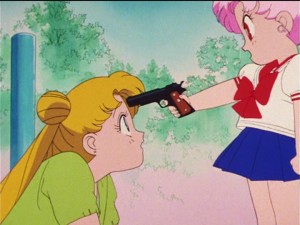 New episodes of Viz's dub of Sailor Moon will be available to stream on Hulu and Neon Alley starting Friday April 10th but only remaining online until June 7th. This is noted on the Neon Alley Schedule and will be celebrated with the 3rd Moonlight Party. The dubbed episodes released will be 47 to 60. This will include the first story arc featuring Ail, An and the Makaiju up to the first episode featuring Chibiusa and the Black Moon Clan. As we have previously mentioned Chibiusa will be voiced by Sandy Fox. Watch a preview clip of Chibiusa's arrival below.
The Moonlight Parties are online streams on Viz's YouTube Channel which coincide with the new release of Sailor Moon episodes. The event will be hosted by Charlene Ingram, Viz Media's Senior Marketing Manager of Animation. The episodes will not be streamed on this event but will be simultaneously available on Hulu and Neon Alley. Moonlight Party III will start at 6pm Pacific Time, 9pm Eastern Time. Details can be found in this Facebook event. Four episodes will be featured throughout the Moonlight Party. This will include episodes 47, 48, 54 and 60. Episodes 47 and 48 will introduce us to Ail and An, the aliens, as Usagi and her friends regain their memories and become Sailor Guardians again. Episode 54, The School Festival Is for Me?! Queen Rei's Song, has Rei performing some songs for a festival. Episode 60, Angel or Devil? the Mysterious Girl from the Sky, introduces us to Chibiusa and the Black Moon Clan.
These episodes will also be available on DVD and Blu-Ray starting on July 14th with Sailor Moon R: Season 2 Part 1 which will include episodes 47 to 68. This will be the first time Sailor Moon episode 67, The Beach the Island and a Vacation: The Guardians' Break, will be released on home video in North America after being skipped in ADV's terrible subbed only release on DVD from back in the day. This set is currently only available for pre-order from The Right Stuf. It comes with a 96 page colour booklet and collectible coin.
Watch the trailer for the Blu-Ray and DVD release below.
Support the site by buying the first season of Viz's release of Sailor Moon on Blu-Ray or DVD using the links below:
Possibly Related Posts