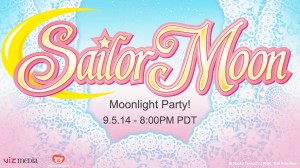 This coming Friday night, September 5th 2014, Viz's new Sailor Moon dub will be available streaming on Hulu and Neon Alley! Viz will be holding a live stream "Moonlight Party!" a virtual Sailor Moon Slumber Party starting at 11pm EST, 8pm PST on Friday which will include the first four episodes.
Later in the weekend, Sunday September 7th, episodes 5 to 23 will also be available to watch! Throughout Friday's event a real time Q&A with Viz's staff will also be taking place so keep an eye on the official North American Sailor Moon Twitter page, @Sailor_Moon_NA and join the event's Facebook page to stay up to date. There will be a contest (official rules) which is open to most of North America, even though Canadians who are welcome to enter the contest will still be unable to view the series on Hulu without using a proxy.
Stay up real late on Friday watching the new dub and then get up early Saturday morning to watch Act. 5 – Makoto, Sailor Jupiter. Why even bother sleeping Friday night?
These dubbed episodes will be available on Blu-Ray and DVD November 11th. You can order the set below.
Possibly Related Posts