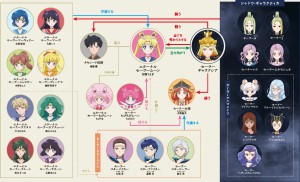 When the second Sailor Moon Cosmos trailer dropped a few days ago many fans were wondering where the Sailor Animamates were. Well we've finally got our first look at them! A character and relationship chart was posted to the Sailor Moon Cosmos official site. This includes pretty much all of the major characters from the Sailor Moon Crystal films. We've seen a lot of these before however the important additions are the Sailor Animamates as well as Sailor Phi and Chi and Sailor Lethe and Mnemosyne.
If you're looking to get a close look at these characters just click through on the chart and you'll see everyone's image. The art in these isn't fantastic but evidently the finished product in the film looks great judging by the trailer.
Familiar to fans of the original Sailor Moon anime are Sailor Iron Mouse, Sailor Tin Nyanko, Sailor Aluminum Seiren and Sailor Lead Crow.
There was one more Sailor Animamate in the manga, Sailor Heavy Metal Papillon. Papillon is the French word for butterfly, hence the wings.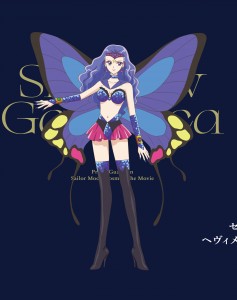 Another few characters who are from the manga but not the original anime are a couple of pairs of Sailor Guardians. There's Sailor Phi and Chi as well as Sailor Lethe and Mnemosyne.
There are many other characters in that chart with new art for their designs you can check out. I'm only posting the new ones in this post because they seem most newsworthy.
Sailor Moon Cosmos Part 1 will be released in theatres in Japan on June 9th with Part 2 following a few weeks later on June 30th. We don't have any specifics yet about a North American release of the film. Sailor Moon Eternal was released on Netflix in many countries outside of Japan so that may be what's planned for this film. A worldwide theatrical release of the film would certainly be great though the world of movie theatres is in a pretty dismal state right now.