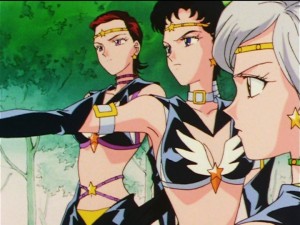 At long last Sailor Moon fans in the United States can now see the Sailor Starlights in a legal release! This week on Hulu and Neon Alley's new episodes of Sailor Moon Sailor Stars we get to see the Sailor Starlights Sailor Star Fighter, Maker and Healer, also known as the Three Light Seiya, Taiki and Yaten. But first we must wrap up this short 6 episode arc and close the story of Nehelenia. Many have noticed that I'm often negative in my reviews so I will just say that this week we are getting two absolutely fantastic episodes of the series. Now let me talk about these wonderful episodes as I complain about little problems I have with them.
Episode 172, Moon Power of Love: The Nightmare Ends, is the last in this mini arc that we are starting out the Sailor Stars season with. The main focus here is on Sailor Chibi Moon and Sailor Saturn. For some reason Sailor Chibi Moon is disappearing. This is somewhat like how Marty McFly was disappearing while time traveling when it looked like his parents weren't going to get together. This is nonsense in a time travel movie and is double nonsense here. Time travel isn't involved. Nehelenia does not come from the future and is not affected by time travel. Galaxia, who we will learn is the one that released Nehelenia, is also not traveling through time. Many things have threatened Mamoru and Sailor Moon but they don't generally result in this Marty McFlying of Chibiusa. Beyond this time travel is not used to resolve the situation and to save Chibiusa either. Whatever. This episode isn't about Chibiusa McFly. It's all about Sailor Saturn being awesome! Sailor Saturn appears so late in Sailor Moon S that we don't get much of a look at her. She is gone for SuperS and although she will be around for this season, she actually doesn't get much screen time. She never actually gets a transformation sequence or any stock footage attacks. She does manage to use two moves in this episode. First she uses the Silence Wall to block Nehelenia's attack. She then uses Silence Glaive Surprise which, in the Manga, just makes mist, but here it seems to be much more important. It releases a massive amount of energy even though it is blocked by Sailor Chibi Moon so that it isn't completed. The insinuation seems to be that this attack would destroy Sailor Saturn and Nehelenia if used to completion.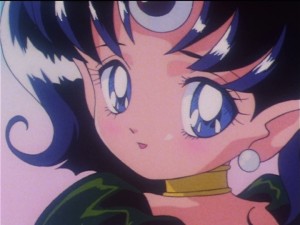 Finally Usagi shows up after climbing through a bunch of rose bushes. She takes pity on Nehelenia. This is what Sailor Moon is about! This is how Sailor Moon SuperS should have ended. Nehelenia is evil, sure, but she has a rich back story where we can see her as young and innocent and then corrupted. Usagi and her friends feel her pain and this is something which hurts her much more than hostility would. In the Sailor Moon Manga the Sailor Guardians kill the bad guys. In the Sailor Moon Anime they use compassion to find non violent solutions to their problems and this is what I love about the anime. This all works out well. Mamoru is healed, Sailor Chibi Moon returns and sticks around until the end of the episode only. Young Nehelenia is seen waking up from what seems like a bad dream. It's not clear exactly what her fate is. Either there is some sort of reboot or she's trapped in a dream of an ideal world, possibly not unlike death. Whatever it's all good.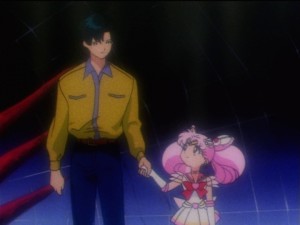 I must stop for a moment to discuss what isn't happening now. Chibiusa leaves at some point and isn't seen again for most of the season. This is done without any fanfare. I mentioned in my thoughts on episode 167 that her fake leaving should have been retooled as a better departure either at the end of 172 or the beginning of 173. Either place would have been fine. As the final insult when I grabbed my Japanese R2 DVD for Sailor Stars volume 2 to get screenshots of episode 173 it has Sailor Chibi Moon and Sailor Saturn on the cover. Nonsense! Chibiusa is not on this disk at all, which includes episodes 173 to 178. The original laserdisc containing this same image contained episodes 171 to 174, and so it included the majorly Sailor Saturn and Sailor Chibi Moon centric episode which this refers to. So I am sad to see Chibiusa leave, even though I understand why she is gone and the story of the season works best without Usagi having her family around, but it is still an unfortunate departure from the manga, where all 10 Sailor Guardians are present throughout.
Finally we get to episodes 173, Farewells and Encounters: the Transitioning Stars of Destiny. We open with a look at the new idol group the Three Lights! It seems everyone is a fan. Minako and Makoto like Seiya. Rei likes Yaten. Ami likes Taiki. Usagi doesn't seem to know anything about them and is instead preoccupied with the fact that Mamoru is leaving for America. No only did Chibiusa leave between episodes, but her boyfriend is going too! At the airport Mamoru gives her a ring and puts it on her ring finger. He does not flat out ask her to marry him but the symbolism of the ring and its placements is essentially a marriage proposal. The two kiss in the airport as strangers walk by. A North American audience may not find this noteable but in Japan kissing in public is uncommon, which is why it will often seem important for characters to verify that they are alone before they kiss. This public gesture demonstrates the strength of their feelings for one another. Mamoru leaves in this episode, and there is a strange light seen outside of his plane. We won't learn until much later what that is specifically about. For Usagi, Mamoru has gone to America to study.
As Mamoru leaves, Seiya enters. It's not even a little bit subtle and it isn't supposed to be. Even while they are still at the airport the Three Lights arrive, and so Usagi's potential love interest Seiya enters her life. As he crosses Usagi he senses something about her. The target for this episode is an actress Alice, who is doing a movie with the Three Lights. This puts Usagi once again in Seiya's presence. She doesn't know who he is and assumes he is trying to pick her up by suggesting she should. The combat starts and we see one of my favourite villains of the series, Sailor Iron Mouse. She is one of the Sailor Animamates, the Sailor Guardians who work for Galaxia. Sailor Iron Mouse extracts a Star Seed from Alice but it isn't a True Star Seed so it's just like a Mirror of Dreams that isn't Golden or a Heart Crystal that isn't a Talisman. The Sailor Starlights show up and fight alongside Sailor Moon. For no real reason Usagi decides not to tell her friends about this encounter.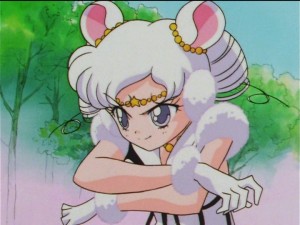 A note on gender. Things get a bit complicated when it comes to the Three Lights and the Sailor Starlights. In the manga they are women who dress as men when they are the Three Lights. In the anime they are men in their civilian forms and women in the Sailor Guardian forms. We can debate weather they are originally or truly men or women. I tend to feel that their true forms are their Sailor Guardian selves and that the Three Light male identities are their disguise. This does not really matter at the end of the day, as gender is fairly fluid in this series, with sexual preference being an independent vector to gender. They are who they are, they love who they love and they are loved by whoever loves them, regardless of their gender. All said I will refer to the Three Light with masculine pronouns and the Sailor Starlights with feminine pronouns.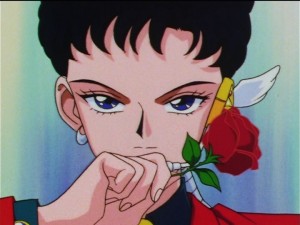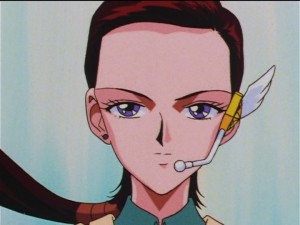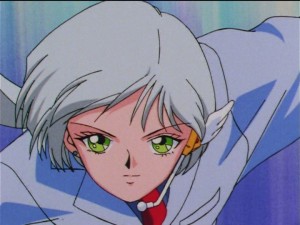 Support this site by buying the first two seasons of Sailor Moon on DVD and Blu-Ray using the links below.