This past weekend was Anime Central in Rosemont, near Chicago. The convention included a Moon Panel on Saturday which included the announcement of the voice actors for the Sailor Animamates in Sailor Moon Sailor Stars which will be released on DVD and Blu-Ray starting June 18th. The newly announced voice actors are Katie Leigh as Sailor Iron Mouse, Andi Rich as Sailor Lead Crow, Faye Mata as Sailor Aluminum Siren and Corina Boettger as Sailor Tin Nyanko. This follows an earlier announcement of the voices of the Sailor Starlights, Chibi Chibi and Sailor Galaxia.
Katie Leigh, who will be playing Sailor Iron Mouse, is a veteran voice actor who has voiced many famous characters that some fans who grew up in the 80s are probably familiar with including Sunni in the Gummi Bears and Rowlf in Muppet Babies. Faye Mata, who plays Sailor Aluminum Siren, has appeared in a number of recent video games and anime series including roles such as Yukako in JoJo's Bizarre Adventure and Lene in Fire Emblem Heroes. Corina Boettger, who plays Sailor Tin Nyanko, has a background in both live action and voice acting work such as Marshtato Mary in Trolls: The Beats Goes and Anju Yuuki in Love Live: School Idol Project. She also streams video games on Twitch. I couldn't find much information about Andi Rich. I don't know if this is because this is a voice actor with little experience or perhaps it's a pseudonym of someone who has worked under another name. This is sometimes done because of rules relating to union work as was likely the case with Barbara Goodson using the alias Janis Carrol when voicing Ziriconia in Sailor Moon SuperS. If any fans have details on Andi Rich's prior work feel free to leave a comment to let us know about it.
Since Sailor Moon Sailor Stars volume 1 will only include the first half of the season, that being episode 167 to 183, we won't be hearing all of these voice actors in the first set. We will be getting all of Sailor Iron Mouse's episodes but Sailor Aluminum Siren and Sailor Lead Crow will only appear in episode 182, along with Chibi Chibi. Sailor Tin Nyanko will not be introduced until episode 188 which will be on the second set. Hopefully we won't have to wait too long for that one!
What to you think of this cast? Are you a fan of any of these voice actors' prior work? Which of the Sailor Animamates is your favourite? I must admit I've always had a preference for Sailor Iron Mouse!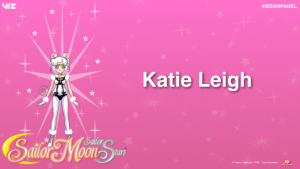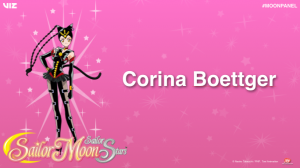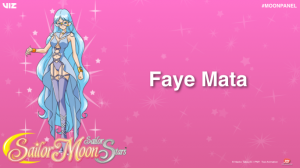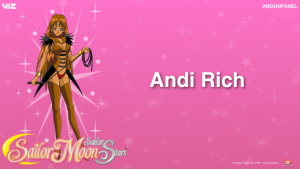 Possibly Related Posts