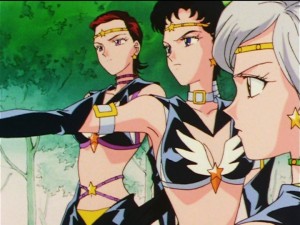 As part of Viz Media's ongoing effort to promote and build up hype for their upcoming release of Sailor Moon Sailor Stars (coming to home video on June 18th!) they have released and English clip which includes our first impression of the voices of the Sailor Starlights! This clip from episode 173 is the first appearance of the Sailor Starlights. Check it out below!
New Sailor Guardians hit the stage! Here's a first look at the English voices for the Sailor Star Lights! pic.twitter.com/HScK4K0UfS

— VIZ (@VIZMedia) May 19, 2019
As we previously mentioned the Sailor Starlights will be voiced by Melissa Hutchison as Sailor Star Fighter, Erika Harlacher as Sailor Star Maker and Sarah Williams as Sailor Star Hearler. These are their feminine Sailor Guardian identities. I'm anxious to hear if their portrayal of the Three Lights, their masculine civilian identities, will differ.
If you're planning on picking this set up on Blu-Ray or DVD please consider supporting the site by buying it through the links below.
Stage on!
Source: @VIZMedia on Twitter
Possibly Related Posts