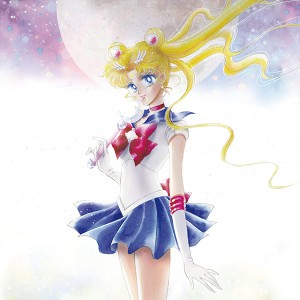 Here's a trailer for the Sailor Moon 20th Anniversary Memorial Tribute Album which will be released on January 29th. It gives a preview of each of the tracks and gives us the details about every artists which will be performing a song. As we've seen before the songs are mostly the opening and ending themes, with a few other popular Sailor Moon songs included. The official web site has also been updated with more information about each track and artist.
Here is the track listing as well as the artists performing them. We'll look at who the newly mentioned artists are later in this post.
1: Moonlight Densetsu (Moonlight Legend) – Momoiro Clover Z
2: Heart Moving – Shoko Nakagawa
3: Princess Moon – Haruka Fukuhara
4: Otome no Policy (Maiden's Policy) – Etsuko Yakushimaru
5: La Solider – Tommy heavenly6
6: Ai No Senshi (Soldier of Love) – Mariko Goto & Avu-chan
7: Tuxedo Mirage – Momoiro Clover Z
8: "Rashiku" Ikimasho (I'll Go As Myself) – Haruko Momoi
9: Sailor Stars Song – Mitsuko Horie
10: Kaze mo Sora mo Kitto… (The Wind, The Sky, Surely…) – Makoto Kawamoto
Bonus Track: Moonlight Densetsu – French Version – Clémentine
Once again we see Momoiro Clover Z, the band who will be performing the theme song for the new anime set to premier in July, performing Moonlight Densetsu. They have previously performed this song twice live and this version sounds much better, having been cleaned up in a studio.
We discussed Mitsuko Horie and Shoko Nakagawa in our first post about this album and then talked about Mariko Goto, Haruko Momoi and Tommy Heavenly6 when more details were announced. With this latest news we have five more artists joining the list with Haruka Fukuhara, Etsuko Yakashimaru, Avu-chan, Makoto Kawamoto and Clémentine. Read on more more on each of these artists.