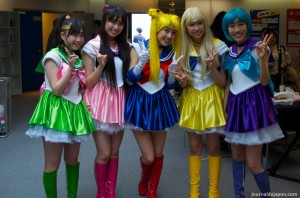 Today is April Fools' Day which means nothing on the Internet can be trusted. With that in mind I am sharing with you some information from some sites in Japan dated March 25th, but that were brought to my attention on April 1st Japanese time.
April 4th Update: Momoiro Clover Z did not perform the new theme song on April 4th but instead did a reenactment of the Sailor Moon S intro.
The news as reported by Momoiro Clover Z blog Momoclomatome and natalie.mu states that this coming Thursday, April 4th 2013, Momoiro Clover Z will be performing the theme song for the new 2013 Sailor Moon anime.
We were previously informed last summer during the 20th Anniversary event that the all girl colour coordinated J-Pop group Momoiro Clover Z would in fact be the group to perform the theme song for the new Sailor Moon anime set to begin airing this summer. The group then went on to perform a song Otome Sensou. Some fans took this performance as an indication that this would be the theme song but there has been no strong evidence to suggest this is the case. The band then performed the classic Sailor Moon anime theme song Moonlight Densetsu which also seems unlikely to be the theme song for the new anime.
Fans have been looking forward to any new information about this show for months. Until now Fumio Osano's occasional twitter updates are all we've had to go on and those serve to tell us little more than that the show is still coming but that he can't tell us anything about it. Let's hope this news is reliable and that this will be the first in a series of updates about this new anime that we've all been waiting for.
Thanks to Twitter user @Sailormoon_UK for bringing this news to the attention of the Sailor Moon fandom.
Possibly Related Posts