The two latest episodes of Sailor Moon R have been added to Hulu and Neon Alley. This week we have episodes 83 and 84 which take place entirely in 30th century Crystal Tokyo! It takes a long time for the story to finally make it to the future but here we are. A lot of stuff that we mostly already figured gets revealed.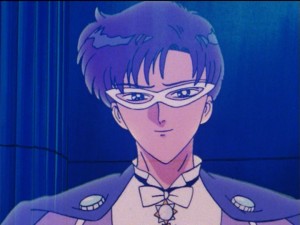 Episode 83, The Shocking Future: Demande's Dark Ambition, introduces us to a world we have previously only seen in dreams and flashbacks. All of the girls assumed it couldn't really be that bad when they saw this destroyed city in Chibiusa's mind but this was obviously spot on. Things are very bad. The gang runs into a familiar face, the holographic projection of King Endymion who is the future version of Mamoru. His voice, which sounds nearly identical to Mamoru's, sounds familiar! Does Toru Furuya as King Endymion sound that much different than Toru Furuya as Mamoru? Anyway, his voice is the one from the dreams that foretold a great calamity if Mamoru didn't dump Usagi. Just what was the reason for this silly fabricated friction between characters which didn't really last? Oh he just wanted to test their relationship to make sure it was strong. Sorry but I just don't see the logic of this and there is no indication that it helped at all. It didn't change the future, so it seems like it was meant to strengthen their relationship in the past so that… Tuxedo Mask didn't let Prince Demande kiss Usagi? Well I'm getting ahead with myself. We learn all of the things we kind of already knew. Usagi is Neo Queen Serenity, oh wow! Chibiusa is Usagi and Mamoru's daughter. Who knew? This surprises everyone and even makes Rei a little mad. Maybe Rei would be the queen of Crystal Tokyo if Usagi hadn't stolen her boyfriend last season! In a somewhat rushed end of the episode Usagi is kidnapped by Prince Demande who dresses her up a bit like Neo Queen Serenity and tries to use his hypnotic powers to kiss her without consent. It's a very uncomfortable scene that deals with a pretty serious issue, but Tuxedo Mask comes in to save the day.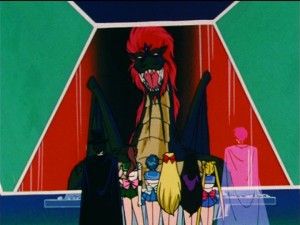 Episode 84, Wiseman's Evil Hand: Chibi-Usa Disappears, has Chibiusa running off while the gang deals with Esmeraude. Esmeraude has been doing a pretty crappy job as villain but it's okay, she can do more good as a dragon! This way she doesn't need to be directly killed by the Sailor Guardians. Instead a dragon is killed who they didn't really know was her. Prince Demande who was trying to sexually assault Usagi in the last episode seems only somewhat put off by Esmeraude's death, tragically not returning her affections. Meanwhile Chibiusa is traumatized and runs off … to the park. In the past (our present) when Chibiusa runs away she always finds herself in the park. It's not really clear why this is. But Chibiusa is not in some foreign city. She's simply in another time. The park may be very familiar to her as it may be the same place she always run to, just from another time. Many landmarks from the future park seem to indicate that it is indeed the same once we often see in the past. Wiseman proceeds to mess with her memory of things. She remembers looking at the Silver Crystal, but not what happened to it. Her views of her family and friends is corrupted to make her think they are all against her. In the final moments of the episode we hear a laugh which sounds somewhat like that of Chibiusa but a bit different. We will see who this is in the next episode.
Support the site by buying the first season of Sailor Moon on DVD or Blu-Ray.