Although there has still been no official announcement confirming this there is growing evidence that there could be a delay in the release of the 2013 Sailor Moon anime which was originally meant to be released this summer. The main sources for this are a tweet from Fumio Osano, the Sailor Moon manga's editor, word from Toru Furuya, the voice of Tuxedo Mask, and word from a European distributor for Sailor Moon. Once again there is currently no official confirmation of a delay, but as there is growing evidence that this could be happening we are presenting you with all of the evidence that exists at this time and what those sources are so that you can make your own informed opinion as to what this means.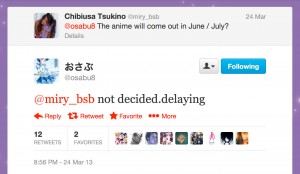 The first indication came last month with this tweet from Fumio Osano, @osabu8 on Twitter. In response to a user asking if the Sailor Moon anime would be released in June/July he replied simply "not decided.delaying". Fumio Osano is the Sailor Moon manga's editor. He was present at the announcement of the new anime series and is the only official voice who's been communicating anything about the new show to the public in these past few months. We did not report on this at the time because this could be interpreted in many ways and is not any kind of official announcement of a delay. It could mean it hasn't been decided and there is a delay, that it hasn't been decided whether or not there will be a delay or many other things. Fumio Osano is a Japanese speaker who makes a good attempt to communicate with fans in English but his message is not always clear.
Yesterday some further news came in when twitter user @Tetho_mig sent this tweet stating that Toru Furuya, the voice of Tuxedo Mask in the original Sailor Moon anime, mentioned that the show would not be airing this summer. The insinuation at the 20th Anniversary event where the new anime was announced was that Toru Furuya would voice Tuxedo Mask in the new anime as well, so he would conceivably have information about how it is coming along. The tweet is French and translates to "Furuya confirms that the new Sailor Moon anime will not be broadcast this summer." This was learned at the Cartoonist convention in Nice, France that took place this weekend. The convention featured Toru Furuya as well as Sailor Moon animators Kazuko Tadano and Hiromi Matsushita, who had characters in the Sailor Moon anime based on themselves.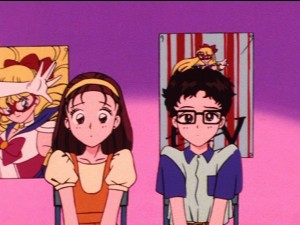 Earlier this week poster _Alexander_ at the Sailor Moon forums mentioned having communicated with Maria Örnryd, the head of TV sales and DVD rights for Plus Licens, a distributor for Toei in Europe. She mentioned that the anime would not air this summer but is currently estimated to air in Winter 2014.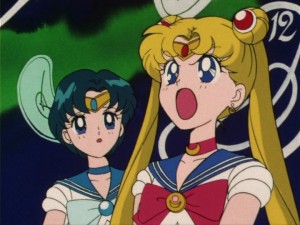 For now the only official word we've gotten is from last summer and that was that the new show would be airing this summer. We are only one month into spring right now. Summer won't begin until June 21st and will not end until September 21st, leaving us more than enough time to actually get this show airing during the summer as was originally planned. We'll let you know right away as soon as there is any formal confirmation of any news, including a delay or specific release date. Here's hoping we don't have to start referring to it as the 2014 Sailor Moon anime!
Source: Crunchy Roll
Possibly Related Posts