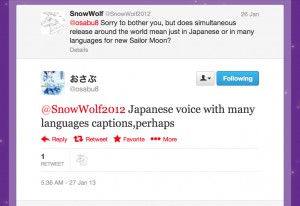 The lack of any significant news about the new Sailor Moon anime set to start airing this summer has been pretty frustrating. Naoko Takeuchi's editor Fumio Osano (@osabu8) has been very active on twitter and answers many questions either by saying he doesn't know the answer yet or he's not allowed to give one. While details aren't really there it seems obvious from all that he says that the new anime is still in the works, though it seems like many of the specifics aren't quite figured out.
Recently a user SnowWolf2012 asked him if the simultaneous worldwide release mentioned at the 20th anniversary event was going to be in Japanese or in many languages. The answer was simply:
Not very definitive, but it seems that we might be seeing a Japanese release with subtitles in other languages, presumably including English, for the original release. A dub could certainly follow at a later time.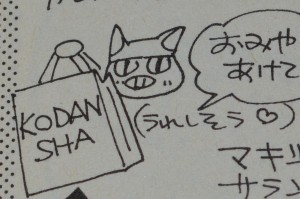 With the vague wording of that tweet it doesn't seem anything is set in stone but a subtitled release appearing online soon after the show originally aired would certainly be consistent with how other shows have been doing things using services like CrunchyRoll or FUNimation's site. As with any anime series a dubbing and home video release would likely follow some time later while TV broadcasts happen only for more popular anime series.
So that's your little tidbit of news. Not much to go on but ultimately we've gotten nearly nothing in the way of new information on this show since the original announcement at the 20th anniversary event. We will definitely strive to bring you any new information as we learn about it.
A big thanks to SnowWolf for bringing this to our attention at the Sailor Moon forums and thanks to Fumio Osano for being so active in communicating with the fans.
Possibly Related Posts