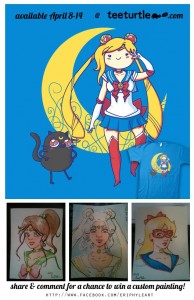 Update: This shirt sale has been delayed to April 22nd, not the 8th as originally reported. You have plenty of time to save up $12 in two weeks!
Starting Monday April 22nd this very cool "Adventure Moon" shirt which has Sailor Moon and Luna drawn in the style of Adventure Time will be sold at Tee Turtle. Tee Turtle works a bit differently from other t-shirt sites. The shirt will be on sale for $12 on Monday and then for $15 until April 28th, so pick it up on Monday if you can but if you miss it you'll still have a chance to get it until the end of the week.
This shirt was on sale last summer at Shirt Punch. I bought the one I'm wearing in the photo below then and have been quite happy with it.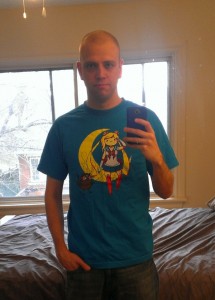 The shirt's artist is Eriphile who has done a ton of Sailor Moon shirts that we talk about on this site. Her web site is currently under construction but you can always like her on Facebook to see what new designs she has in store. She is also holding a contest to win a watercolour painting if you share this Facebook post promoting the shirt before the end of the sale.
Possibly Related Posts