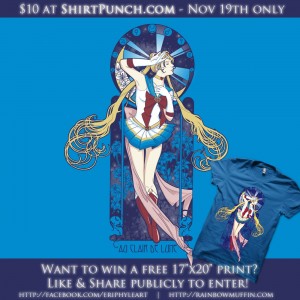 We previously mentioned this shirt when it was on sale at Ript Apparel a couple of months ago. If you missed your chance to pick it up you're in luck because for 24 hours this art nouveau style shirt featuring Sailor Moon herself will be $10 at Shirt Punch. It will be on sale all day on November 19th from midnight to midnight. The shirt features the words "Au clair de lune", a reference to the French song "Au clair de la lune" as well as the Sailor Moon dub theme song's lyric "Fighting evil by moonlight".
Here's a really crappy picture of me wearing the Ript Apparel version of the shirt while holding a black cat named Luna: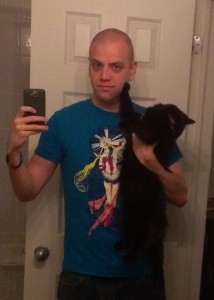 As we mentioned last time the shirt's artist is Eriphyle. This artist has also worked on a lot of other great Sailor Moon art. Check out her web site and follow her on facebook for more.
Possibly Related Posts