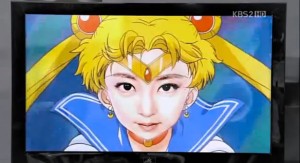 Here's a somewhat old Sailor Moon sighting from a Korean drama series Myung Wol the Spy. In episode 7 of the series which first aired a bit over a year ago on August 1st 2011, the main male protaganist is trying to get a woman off his mind. In doing so he is watching TV and her image keeps coming up as he flips through the channels. At one point he lands on Sailor Moon as her first season transformation sequence is happening with her face replaced by that of Han Ye Seul who plays the titular character Han Myung Wol.
The following clip has been cued up to the scene in question:
Sailor Moon appears at 9 minutes and 13 seconds.
Thanks to rosepetals from the Sailor Moon forums for spotting this one.
Possibly Related Posts
No related posts.