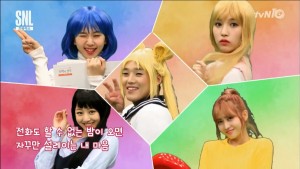 Fans of K-pop will love this video from last night's SNL Korea. The Korean pop band TWICE were on Saturday Night Live Korea on October 29th. One of their skits was a recreation of the Sailor Moon opening theme which has as its music the Korean version of Moonlight Densetsu. The skit has members of the band TWICE playing Sailor Mercury, Mars, Jupiter and Venus as well as Kwon Hyuk Soo, the male host of SNL Korea, as Sailor Moon. Luna is played by a human and is absolutely creepy. You can watch the clip below.
Fans may notice that the scenes from this intro aren't all from the original Japanese intro but from the intro of the first season and Sailor Moon R of the original anime. This is because the Korean opening to Sailor Moon, like the original English dubbed intro, has a mix of scenes from multiple openings. Check out the original Korean opening below for reference. The SNL Korea version isn't a shot for shot remake but it does a pretty good job.
Source: Soompi. Thanks to Captain Genius for the heads up!