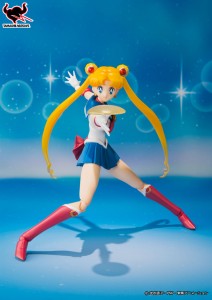 Moon Tiara Action! These new photos of Bandai's Sailor Moon figure which will be released in August give us a first look at the Tiara in action! Notice also that Sailor Moon in this pose does not have her Tiara on her forehead, as this is a swappable face. Along with three new photos the Tamashii site also has an English blurb about the toys which reveals that there will be two Moon Sticks, one with the Silver Crystal and one without.
S.H.Figuarts Sailor Moon's Posability & Articulation!

Intense action scenes highlight Sailor Moon's image as a "Beautiful Soldier".
The latest S.H.Figuarts articulation technology lets you fully enjoy the world of Sailor Moon.
You can recreate iconic action scenes of Sailor Moon from memory with your very own hands.
That is one of the greatest attractions of playing with action figures.
Part of the hair has been rendered with clear parts for enhanced realism.
S.H.Figuarts Sailor Moon will shine not only as an articulated action figure but as an elegant display piece.
A full array of interchangeable faces and hands in the set help reproduce dynamic anime scenes.
Also, 2 types of Moon Sticks (with/without Silver Crystal), and effect parts for "Moon Tiara Action" will expand the playability of "S.H.Figuarts Sailor Moon".

Next time, we will be able to introduce not only serious facial expressions but also comical expressions of Sailor Moon.
Stay tuned!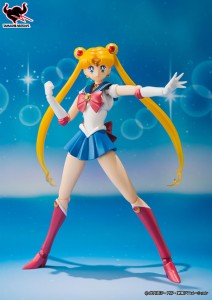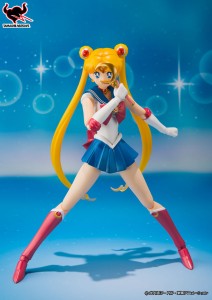 Source: Sailor Moon Collectibles
Possibly Related Posts