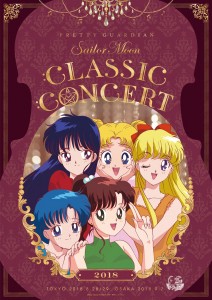 Following last year's 25th Anniversary Classic Concert we are getting yet another Classic Concert with this summer's Sailor Moon Classic Concert 2018. An image, which will likely be used for posters and the album cover, has art in the style of the original Sailor Moon anime as opposed to least year's concert which had Sailor Moon Crystal inspired designs. I have a nostalgic preference for the original anime myself though it would certainly have been nice to have seen these designs incorporate musical instruments or something of a musical theme as we saw last year.
The concert will be performed August 28th and 29th at the Tokyo Art Theatre and September 7th at the Osaka Festival Hall. A set list for the concert was posted to the official Sailor Moon site which gives us a good idea of what to expect. There are similarities to the last Classic Concert but there are also some new songs we haven't heard in a while, such as a nice assortment of character songs from the original anime, mostly those from the Sailor Moon R era. I couldn't find a translated list of the songs online anywhere but so made an attempt to provide one here.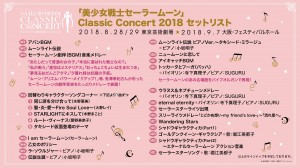 I've done my best to translate the track listing below. I don't speak or read Japanese so I usually just copy and paste this kind of thing into Google Translate which gives me a rough idea of a translation, usually enough to understand what song it's a reference to. In this case the set list was only on an image so it was a bit trickier figuring out what these songs were. The list below is incomplete with a few sections including ??? when I just couldn't make any guess at a translation. This includes kanji which I have no ability to translate. If anyone can shed light on some of those missing or incomplete titles please mention it in the comments and I'll update it.
Update July 11th: Thanks to a comment by Mayuri I was able to complete the track listing!
M1: Background music
M2: Moonlight Densetsu (Moonlight Legend) – Sailor Moon anime opening theme
M3: Background music
M4: Character songs (Since this is a single song it seems likely this will be samplings from five character songs into a single song)
M4-1: Onaji Namida wo Wakeatte (Sharing the same Tears) – Ami Mizuno's character song
M4-2: Sei Hi Ai ~ Fire Soul Love ~ – Rei Hino's character song
M4-3: Starlight ni Kiss Shite (Kissing in the Starlight) – Makoto Kino's character song
M4-4: Route Venus – Minako Aino's character song
M4-5: Tuxedo Mask's Entrance Theme
M5: I am Sailor Moon – Sailor Moon's character song and the ending theme to the Make Up! Sailor Senshi special
M6: Otome No Policy (Maiden's Advice) – Sailor Moon R ending theme
M7: La Soldier (Piano) From many early Sailor Moon musicals and Sailor Moon R episode 88
M8: Birth of a Legend (Piano)
M9: Moonlight Densetsu (Moonlight Legend) – Tuxedo Mirage – Piano – Seems like a mix of the Sailor Moon opening theme and the ending theme for Sailor Moon S
M10: New Moon ni Koishite (In Love With the New Moon) – Opening theme to Sailor Moon Crystal Season III
M11: Eye Catch Background music (Commercial break bumpers)
M12: Toccata and Fugue (Bach) (Violin & Piano) – A piece of classical music by Johann Sebastian Bach
M13: Uranus and Neptune Medley (Violin & Piano)
M14: eternal eternity (Violin & Piano) – Sailor Moon Crystal Season III first ending theme
M15: Sailor Starlights Make Their Appearance
M16: Three Lights: Todokanu Omoi -My Friend's Love- (Unreachable Feelings: My Friend's Love) and Nagareboshi he (To the Shooting Stars) – Two songs from Sailor Moon Sailor Stars
M17: Wandering Stars
M18: Shadow Galaxia (Part 1)
M19: Golden Queen Galaxia
M20: Shadow Galaxia (Part 2)
M21: Sailor Stars Song (The Sailor Moon Sailor Stars opening theme)
Songs M17 to M20 aren't specific songs that I'm aware of but likely cover background music or songs related to the Stars arc centering around the Sailor Starlights and Galaxia.
It seems likely that a CD of this concert will be announced and released afterwards. As with the last concert this will likely be a mix of various musical styles using classical and other instruments. Do any of you plan on attending any of these performances?