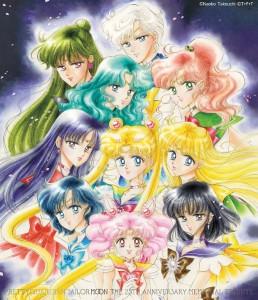 The Sailor Moon The 25th Anniversary Tribute Album will be released later this week, on April 4th, but you can now see a video previewing of all tracks on the Sailor Moon official site. I had previously posted a translation of all tracks on this album. We have now also learned of two bonus tracks which will be included. These are Moonlight Densetsu (Moonlight Legend), the original Sailor Moon anime opening theme, as well as Tuxedo Mirage, the ending theme to Sailor Moon S. Both of these tracks will be performed by the cast of Sailor Moon Crystal. That being Kotono Mitsuishi, Sailor Moon, Hisako Kanemoto, Sailor Mercury, Rina Sato, Sailor Mars, Ami Koshimizu, Sailor Jupiter, and Shizuka Ito, Sailor Venus. It sure is nice to see that they still have the contact information of the Sailor Moon Crystal cast, what with it having been so long since they've recorded any episodes of the show.
Check out the video below.
What do you think? I've got a few thoughts already! I don't like Moon Revenge at all. I'm all for doing a cover in a different style but this fast pace just doesn't fit the song to me. I'm pretty disappointed with Otome No Policy being so similar to the original version. Why get the original artist back to sing the same song in the exact same way especially after we just got a fairly similar version from the Classic Concert? Hearing Moonlight Densetsu with the new cast is pretty neat, though this song is generally done to death. We had originally gotten a "Pretty Cast" version of this song from the original anime. Pretty Cast was a name for a group composed of the five voice actors voicing the original Sailor Guardians. As they were also the original voices for Moon Revenge I would have preferred to see them do the vocals for this song as a bonus and perhaps give something more fitting to BiSH.
Any favourite tracks out of these? Are you picking up this album this week?