The two latest episodes of Sailor Moon were added to Hulu and Neon Alley this morning, September 29th. As with every Monday two new episodes subbed by Viz are added to these streaming services. This week we see episodes 41 and 42 where we reunite lost lovers and finally get some backstory on Sailor V.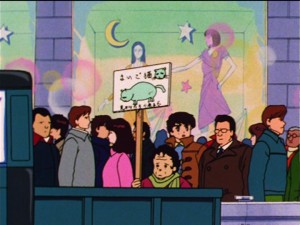 First up we have episode 41, I Won't Run Away from Love Anymore: Ami vs. Mamoru. The title is kind of silly. Mamoru, as Endymion and later Tuxedo Mask, spends a decent amount of time fighting Sailor Jupiter in an alley before doing much with Sailor Mercury. Ami makes the title because this episode is all about her being reunited and finally going on a date with Ryo Uwara, one of the Rainbow Crystal carriers. Mamoru has been collecting all the old Rainbow Crystal carriers, including Rhett Butler, the obese alley cat who fell in love with Luna. In one scene his owner has a sign with his image on it, as he has been cat napped. Not many of the humans affected seem terribly disturbed. What's worse is that once Rhett Butler is finally freed Luna is right there and doesn't seem to be terribly affected by his presence. After all they shared she just kind of ignores him. I guess new hotness Artemis is in town so she has no time for old and busted Rhett Butler. For shame.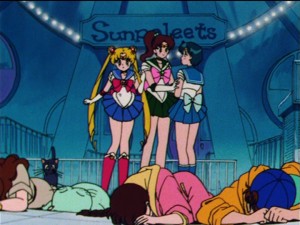 Next is episode 42, Sailor Venus's Past: Minako's Tragic Love in which we get a look at what Minako did while she was Sailor V. The Dark Kingdom is trying to manipulate her via her old friend Katarina from back in the day. Minako was in love with Alan while in London working with Katarina of the police department to fight the Dark Kingdom, called the Dark Agency in the Sailor V comic. When Sailor V is thought to be dead she learns that Katarina and Alan were in love with each other and leaves them to be happy together. This episode also includes Usagi disguising herself as an actual sailor! Sailor Sailor Moon! Sailor Guardians aren't sailors in name only as their uniforms, similar to Japanese school uniforms, bear a resemblance to sailor uniforms as we can see by the vague resemblance here.