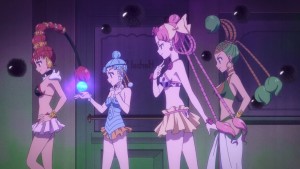 The Sailor Moon Eternal films are both streaming on Netflix worldwide, outside of Japan, and it's been nearly six years since I've been able to do a review of Sailor Moon Crystal content! Here are my thoughts on the first of the two film. These are usually about 25% story recap, 70% silly observations and jokes and 5% actual review type thoughts.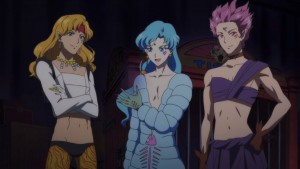 As with the rest of the Sailor Moon Crystal series these movies are a very faithful adaptation of the manga source material. As Sailor Moon SuperS is the anime season that probably varies the most from the manga, fans will probably find the differences considerable while those who've read the manga will find this all very familiar. The main difference in this story would be the relative unimportance of the Amazon Trio who dominate the first half of the Sailor Moon SuperS season, acting as pick up artists for young women, older women and boys. In this film like with the manga they aren't much more than monsters of the week. Easily discarded.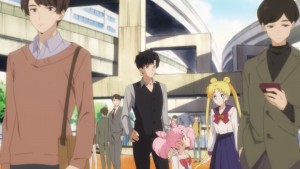 The movie isn't billed as a Sailor Moon Crystal movie, though that's obviously what it is. It isn't really standalone. Fans of the Sailor Moon Crystal TV and web series will of course be happy to see this continuation of the story they've been following. I have to wonder how many fans of the old 90s anime will see these movies appear on Netflix and check them out without having much context. These aren't anything like the Sailor Moon R, S and SuperS movies from the 90s, standalone stories with little connection to the TV series. That said these movies do present a single story arc which begins and ends with these films. Sure we may not know where Chibiusa comes from or how everyone got their powers but we can more or less follow the story of the Dream arc without needing that back story. Part 2 will have more issues here with the Infinity arc backstory for Haruka, Michiru, Setsuna and Hotaru being particularly important. It's really mostly an issue of background on characters. One Letterboxd review, for example, asked if the child (Chibiusa) wants to boink (engage in sexual relations with) her dad (Mamoru). I think to anyone who's familiar with either the original anime series or Sailor Moon Crystal this much, in less graphic terms, is pretty much assumed! So much to say it does seem that some people are coming into these movies fresh and these are the types of questions which must be coming up.
The film starts more or less where we left off. A roughly six month gap occurred during Act 38 and then, in an instant which lasted almost five years in the real world, the movie starts. It actually rewinds a bit and recaps a bit from Act 38 which wasn't in the first Dreams manga arc. The gang are in the park to view an eclipse during which they see Pegasus. A note on casting here. While almost all of the Sailor Moon Eternal English voice cast are actors reprising their roles either from earlier seasons of Sailor Moon Crystal or the Sailor Moon SuperS dub of the original Sailor Moon anime the voice actor for Pegasus/Helios is a different actor. This wasn't a huge surprise. Chris Niosi voiced Pegasus in Viz's dub of the original Sailor Moon anime a few years ago. Since then he was target of some abuse allegations and, following his own admission of his role in such and other events, he was recast in many of the roles which he had been working on. Brian Beacock takes over as Helios in this series. Since the character did not previously appear in Sailor Moon Crystal this isn't technically a recasting of the role however this is an outlier with most other actors returning. Brian Beacock previously voiced Ail/Seijurou in Viz's dub of Sailor Moon R!
The girls find a couple of kaleidoscope toys which Mamoru is disappointed to have to buy. These are about $10 which is certainly more expensive than some cheap kaleidoscopes but considerably cheaper than the replica kaleidoscope toy which sells in Japan for roughly $300 US! I guess Mamoru got a real deal there, not to mention they end up being magical items. Not wanting to open up a rift in time and space in the middle of a crowded park the girls opt to spend the night at Mamoru's, something which is hardly new to either of them. While going to bed Chibiusa and Usagi both wish they were the opposite's age and if anyone of you grew up in the 80s and 90s I'm sure you've seen how this movie plays out!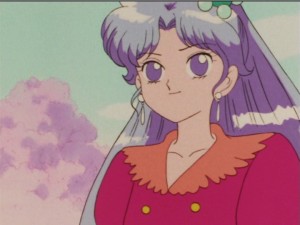 Chibiusa protests going to bed. This is a habit I am very familiar with as I have two children, the oldest of which was conceived around the time of the last episode of Sailor Moon Crystal. No relation between those events. She asks Mamoru for a story saying that she used to get these from her parents back in the future. The examples she gives are stories about robots and vampires. Wow! Are these real stories??? I suppose technically the Droids from Sailor Moon R are like robots but I wouldn't describe them as such and those come from the future. Vampires? In the manga we get a side story about a vampire girl named Lilica. It seems unlikely Chibiusa's parents told her this story as it's one that Chibiusa herself experienced, unless they're really trying to mess her up by telling her stories about her own future which took place in their past. Time travel!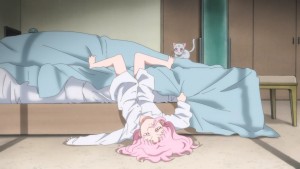 So Pegasus shows up looking for a maiden with beautiful dreams and a major plot point here is that we don't really know if the Princess is Minako or Usagi. Sorry we don't know if the maiden is Chibiusa or Usagi. At this point we think it's Chibiusa. Pegasus appears with sound effects that seem right out of Sailor Moon SuperS! An odd choice.
The next morning there's a tiger loose in the Juban shopping district. What an odd problem that does not on the surface appear to be related to any sort of evil villain at all. It's been six months since the Death Busters were defeated and it's evident that neither Sailor Moon, Chibi Moon or any other Sailor Guardians have transformed since. For some reason instead of leaving this escaped circus tiger problem to animal control or maybe the local police the girls decide that they should of course transform? Are they actually equipped to fight a tiger? If they happened upon a bank robbery would they just transform and take down the robbers? Does this mean that, to be consistent with their behaviour, they should monitor a police scanner and fight crimes like Batman? The whole situation seems odd. Anyway it doesn't work since the grail isn't around because Sailor Uranus, Neptune and Pluto aren't there. Luckily they get some new transformation broaches which is good because animal control still hasn't shown up.
They transform into Super Sailor Moon and Super Sailor Chibi Moon right away. No two stages of transformation needed at this point. Convenient! They get a bunch of news toys. Chibi Moon gets a bell that makes the SuperS sound effect and they both have their $10 kaleidoscopes transform into Kaleidomoon scopes. They fight a could of the Amazoness Quartet, who unlike the Amazon Trio are the main villains of this story arc, and PallaPalla swaps their ages, with hilarious consequences!
I feel like the age swap, in the manga and in this movie, was oddly brief. It could be a major plot point with serious consequences. Instead it's treated a bit as a joke and a bit of "be careful what you wish for" type wisdom which really is silly since people can't wish for things. Mamoru and Usagi have this really weird moment where they express how awkward their age difference is. It seems there's a limit to the age gap! Older Chibiusa seems to have some sort of revelation that she can't hook up with her father. The two seem concerned and frustrated trying to find a solution which turns out to be … just transform again? Really no one tried this? So we're okay with transforming to be scabs for animal control but when their fundamental ability to fight an active threat in town is in question they don't even test their transformations? A bit weak! Seeing young Usagi is nice, though we will see her again later, and seeing not evil older Chibiusa is kind of cool.
Then things really start to seem like a series of episodes and we cut from one character's story to another. The manga frequently does this in a number of arcs, having a story focus on a certain character. This works well when they are broken up into individual comic acts or TV episodes. In the movie however it's very obvious that these are a number of stories stitched together. I appreciate the faithfulness to the source material but there is a down side. These aren't totally contained, with the age swap story bleeding into the Ami's family sucks story and such, but we can see the obvious separation.
First up is Sailor Mercury and her terrible parents! Ami's mother works too hard and is never home. This isn't totally horrible. One can hardly expect a single mother to quit her job so that she can spend more time with her daughter, who's out studying and fighting crime most of the time anyway, but it does seem like Ami has a rough home life. Ami's socially awkward mother happens to be the significantly better parent as her hippie father just took off for not so clear reasons, sent some divorce papers in the mail and doesn't seem to want to have much to do with his daughter. He makes hollow gestures like sending her paintings of fish which does little to make up for his lack of support. Perhaps if he paid child support Ami's mother wouldn't have to work graveyard shifts most nights. Ami meets little fairy Mercury, learns a bit about herself and gets these little shoulder pads. Shoulder pads were bit in the 90s but in 2021 no one really has shoulder pads anymore.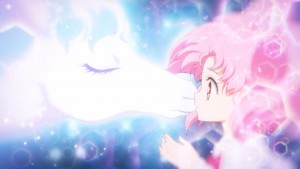 Meanwhile Chibiusa has this whole weird thing with Pegasus who spends a lot less time under the pretence of being a horse in this continuity. We're pretty late in Sailor Moon SuperS before we discover that this horse Pegasus is actually a dude named Helios but in this continuity we learn it pretty quickly. We don't really think of him as Pegasus for long. We have the humourous scene where Chibiusa kisses a horse but then he turns into Helios. Whatever. At least she's not making out with her dad again.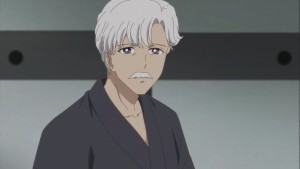 On to the next "episode" of our lives. It's Rei's turn! Her grandfather is sick and hot damn, he's gorgeous! Fans of the original 90s Sailor Moon anime will recall Rei's grandfather as a creepy old man who lusted after teenaged girls. Sailor Moon Eternal Rei's grandfather, who looks somewhat like his manga counterpart, is a hunk! He has grey hair but still looks quite fit and youthful. I bet original anime Rei's grandpa would have had more luck with the ladies if he looked like this! Someone has mentioned that he looks like Colonel Sanders in the parody dating sim I Love You, Colonel Sanders! and I think that fits perfectly. Superficial signs of age but still a youthful appearance. It's like those men's clothing catalogues that get young models with their hair died grey to wear their clothes.
Rei wanders into a house of mirrors and is really amazed that one of the mirrors isn't reflecting an image. Is this really that weird? Isn't that just like… a piece of glass? Or even a wall? Non reflective surfaces are by far the norm in the natural and unnatural world but Rei assumes this is… magic? Super weird.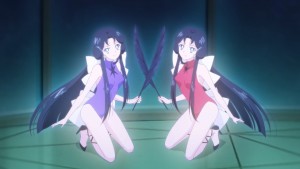 We see a young and cute Rei meeting Phobos and Deimos for the first time. She can converse with them somehow and instantly knows their names. We get the humanoid Phobos and Deimos reveal which is something I've posted about extensively over the past six months but that still was considered enough of a spoiler that some dude on Twitter felt the need to publicly announce his unfollowing me for daring to reveal this 25 year old information. As I'd mentioned before there was always some confusion over the colours, which had been settled when the movies were released. As we see here Phobos is the fairy on the right, who is dressed in red, while Deimos is the one on the left, dressed in purple.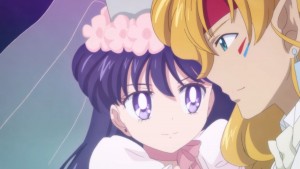 Young Rei is cute but child bride Rei with Tiger's eye is super creepy. When PUA Tiger's Eye in the anime goes after mostly teenaged girls it's a bit weird but when he's with a full on a child it's about as awkward as Mamoru and young Usagi!
Finally let me rant a bit about handedness, which will be coming back in the next film. Rei's Mars Flame Sniper has her pulling back the arrow with her left hand. This is the left handed way to hold a bow. We see young Rei doing archery in this story and she pulls back the arrow with her right hand, the correct way for a right handed person. This seems like a mistake. What's the issue here? Well it would go back to the 90s anime since many of the transformations and attacks in this movie are nearly identical to the ones we saw in Sailor Moon SuperS! Perhaps the person who animated that attack many years ago simply didn't know much about archery.
Makoto is the next to power up. The most notable change since the last Jupiter episode is the photo of her parents. We originally saw this during the Black Moon arc where I couldn't help but notice that her late father looked suspiciously like Brock from Pokémon. We see this photo again but it's changed slightly. The frame is different and though her mother and father are posed in the same way her father's hair is evidently not Brock like at all and they aren't wearing the same clothes. Why would Makoto have swapped out this photo with a nearly identical one? It's not like it's a new photo!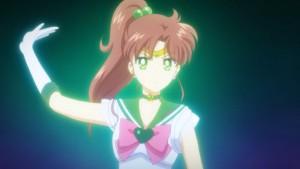 Hawk's Eye has set up an herb shop which Makoto is drawn to. She gets slapped by her little fairy Sailor Jupiter thing and then gets a weird crown of oak leaves, which leads to her power up and shoulder pads. If they'd had acid washed jeans as part of their power ups do you think we'd still be using them as part of their uniforms in newer incarnations?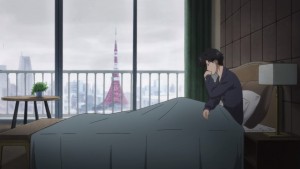 Meanwhile we learn more about Helios who comes from Elysion which I suspect could be in the Hollow Earth but I'll discuss that more at length in my Part 2 review. Mamoru is sick, couching up blood. It's a bit troubling to see characters with an infectious lung disease given the ongoing pandemic. This is all caused by magic since Mamoru has a black rose inside of him but that doesn't really explain why others are catching this disease or why Mamoru seems to be the only one who remains sick.
Finally, Minako still doesn't have her shoulder pads and for whatever reason all of the other girls sort of assume she should have them. This whole plot reminds me a bit of how in Sailor Moon S of the original anime Minako was the last to be targeted for her Pure Heart and she felt self conscious about it. A scene where Artemis is staring at Minako in the shower is cut down for the film. Originally Diana mentions the way he's looking at her which upsets Luna. I suppose the film is trying to downplay the Artemis/Minako shipping.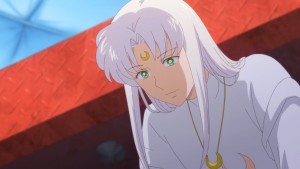 Minako decides she wants to be an idol, which is the plot of another handful of original anime episodes, and this seems to be done via an MXC style competition which is extremely dangerous. Indeed Minako ends up falling to her death saved only by Artemis who turns human! This is one of the big spoilerish reveals of the movies! We'd seen Human Luna before but this is the first time we see animated Human Artemis! As a change from the manga we see the end of Minako's story and her transformation and new attack. This moves the scenes showing us what has been going on with Hotaru, Haruka, Michiru and Setsuna to the second film.
Roll credits! I can't read any of this but it's worth noting that Moon Color Chainon, the theme song for Sailor Moon Eternal, plays here in the credits. I expected it would be the opening theme (and may even have claimed that it was) so I was a bit surprised to see these movies don't have actual openings. Next is Watashi-tachi ni Naritakute or Wanting To Be Together With You which is a cover of the first ending theme for Sailor Moon SuperS, which seems fitting here. This particular version is performed by Sailor Moon veteran Yoko Ishida.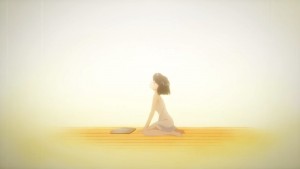 There's a brief post credits scene which shows us Hotaru and gives us a hint at what we'll see next!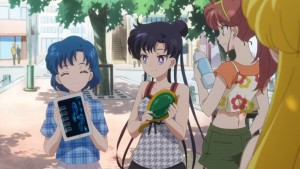 All around I enjoyed the first film, despite some sort of odd pacing that isn't really meant to be told in movie format. I might have preferred to see this as a series of episodes which would have had a slightly longer run time but perhaps the animation wouldn't have been as good in that case. This movie looks great and is a considerable improvement on what we saw in the first 26 episodes. It's very difficult for me to think of this as one single movie as I was able to, along with every else who first saw these films on Netflix, watch both parts at once. If I saw this in theatres would I have been annoyed at having to wait until the next part? I don't know. In Japan the time between the two films was barely more than a month.
What did you think of the movie? Let us know in the comments! I'll get to posting a Part 2 review at some point.
Keep reading for more screenshots from this film.