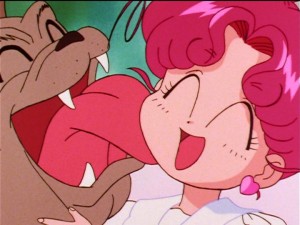 This week is all about Chibi Chibi with the two latest episodes of Sailor Moon Sailor Stars added to Hulu and Neon Alley. First in episode 186 Chibi Chibi found the world of sweets or rather some old dude's mansion and she gets into all kinds of trouble and next she transforms into a Sailor Guardian, Sailor Chibi Chibi Moon!
Episode 186, Chibi-Chibi's Mystery: The Big Noisy Chase, is all about Chibi Chibi getting into mischief. Chibi Chibi is so mysterious! She's got a nice fancy looking doll and she's always got treats. Usagi suspects she might be traveling to the world of sweets which we can all laugh at but is it all that weird? I mean is the world of sweets more weird than Chibi Chibi's actual origin story? In this world of magic and superheroes maybe she's been hanging out at Marzipan Castle with the Bonbon Babies! Anyway Chibi Chibi keeps almost dying but being perfectly fine, getting into a confrontation with a dog that is nice and similar such things. She ends up at a mansion, cue the mansion music because that's how many mansions there are in Sailor Moon. She has been befriending this old dude Jotaro Kiriyama that has a bunch of antiques. You guessed it! He's the target this week and he turns into Sailor Antique because he has antiques! He calls a horse, just like Chibiusa calling Pegasus, and that has hilarious consequences. Throughout the fight all of these priceless antiques get wrecked which is all fun and games.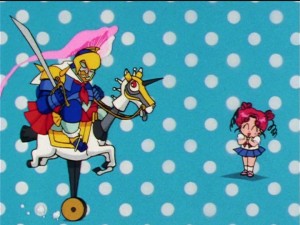 Episode 187, The Shining Power of a Star: Chibi-Chibi's Transformation, is all about Sailor Chibi Chibi Moon! But first we learn all about the Three Lights Fan Club and its immense power. We've learned before about this club, which all of the girls are part of. Ami is member 25! A shocking revelation which tells us what a super fan she is. Who's member #1? Well it's Sonoko Ijuuin, a student at Juuban High School, where the Three Lights happen to go to school. Sonoko does not approve of Seiya and Usagi's friendship. She thinks Usagi is beneath Seiya and does not want them to associate with each other. She suggests a bet, over a baseball game. If she wins, Seiya stops seeing Usagi. If Seiya and Usagi win, they can continue to have a relationship. I don't really understand where she gets the ability to demand this. Can't Seiya just tell this lady to screw off? These guys are the Three Lights. They will get along just fine without a handful of ungrateful disrespectful fans! I'm pretty sure the #2 member of the fan club would be perfectly happy to be the new #1. If not then maybe #3 and so forth because I'm pretty sure #25 is cool with Usagi! Whatever they agree to this charade because they literally hate freedom. Sonoko is the target and becomes Sailor Leaguer. In the fight Usagi drops her Eternal Tiare. Chibi Chibi picks it up and transforms into Sailor Chibi Chibi Moon, a pint sized Sailor Guardian! Well that sure is weird! She also upgrades Sailor Moon's item to the Moon Power Tiare. This new weapon uses Silver Moon Crystal Power Kiss as an attack, which has the exact same effect as her last attack, healing Phages. So they beat the bad guy and then they win the baseball game which means two people who had no valid reason not to be friends are allowed to be friends again.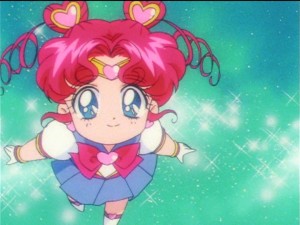 Support this site by buying the first two seasons of Sailor Moon on DVD and Blu-Ray using the links below.