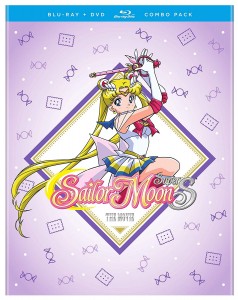 The 3rd and final Sailor Moon film, Sailor Moon SuperS: The Nine Sailor Guardians Unite! Miracle of the Black Dream Hole, will be released on DVD and Blu-Ray February 12th. This film was released in theatres earlier this year along with the Ami's First Love Special which is also available with this video release. Though this is the only Sailor Moon film with a lengthy title the name "Sailor Moon SuperS The Movie" is being used for this release for simplicity's sake. The film is available for pre-order from Viz.com as well as on the Right Stuf web site (DVD only and Blu-Ray combo pack) and Amazon, though the product is incorrectly included on the same page as the S movie. This release will include Viz's new english dub of the film as well as the original Japanese dialogue with English subtitles and a few extras such as an English cast interview. The cover art features cookies and candy, no doubt a reference to the many sweets playing a role in the film's plot including special cookies made by Chibiusa to give great power and the Bonbon Baddies (Babies?), candy which attacks the Sailor Guardians.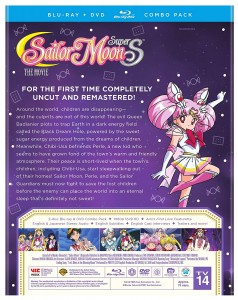 The movie has the villains' main plot to enslave the world's children and lock them into a dream like simulation in order to collect their energy. I have argued in the past my fan theory that this plot is very close to that of The Matrix.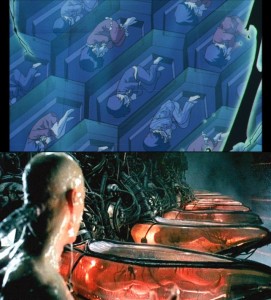 Also included is the Ami's First Love special. This short film was originally released in Japan along with the SuperS movie. It focuses on Ami and her aversion to love letters as she tracks down a rival who she believes to be a monster, with hilarious consequences.
The R and S movies which were previously released were all of very high quality, similar to those released in Japan, as can be seen by my review of the R movie and of the Japanese set. The video quality of the SuperS film shown in theatres was quite good, and a likely indicator that this release will be the same. At this price point I think any fan should seriously consider buying this and the other Sailor Moon films. Do you plan on picking it up?