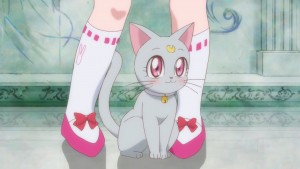 The latest episode of Sailor Moon Crystal, Act 20, Crystal Tokyo – King Endymion, is now available to stream on Crunchyroll, Hulu and Niconico. The gang is in the future city of Crystal Tokyo and now it's time to have the ghost of King Endymion give them exposition about the story to date, including a bunch of revelations of things we mostly knew about.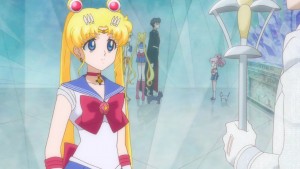 We meet King Endymion and with that we learn all about Chibiusa, Crystal Tokyo and the Black Moon Clan. King Endymion appears as some sort of non corporeal projection of the real King who is in another room. In the original anime he is a hologram but in the manga and here it's not entirely clear what is happening. He's not stored in a computer like Queen Serenity was on the Moon. It seem more like he's a sort of ghost. But does that mean King Endymion is dead? More on that later.
Chibiusa is Sailor Moon and Tuxedo Mask's daughter from the future. At this point we mostly already figured this out. If we hadn't we can immediately infer this from the fact that Sailor Moon noticed that King Endymion is the future Tuxedo Mask and that Chibiusa calls him father. We can easily infer that this means Tuxedo Mask is Chibiusa's father, but Sailor Moon and Tuxedo Mask do not have their "OMG WTF!!!" reaction until they are blatantly told what is what with Chibiusa. Their embarrassment seems to insinuate that these two have not previously had sex. We know this is likely not the case.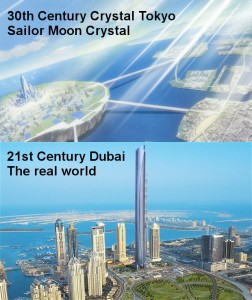 We get a description of what's up with Crystal Tokyo and it seems that in all it's glory it was … a bunch of islands? We don't know a ton about Crystal Tokyo but what we do know is that it is the future city of Tokyo. Tokyo is not a series of islands like the Florida Keys. It's just a city on the Ocean. So what's up with Crystal Tokyo? It looks a lot like Dubai, a city on the shore of the Persian Gulf but which is also home to a ton of artificial islands along the coast giving it a somewhat similar look. It's certainly possible that the inhabitants of Crystal Tokyo built these things on the ocean. They would have the technology, and magic, to make it possible. When Chibiusa travels through time she does not arrive in the past in the ocean or in the future on the main land far from the palace. I always assumed the time travel was tied to a specific place but in a different time but this is never clearly established. Regardless, Crystal Tokyo in the manga or original anime was never portrayed as a series of islands as it is seen here. It wasn't even shown like this in earlier episodes of Sailor Moon Crystal.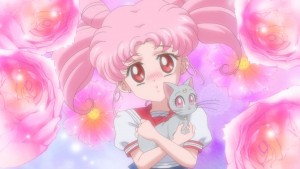 This episode has the introduction of the adorable kitten Diana! She is Luna and Artemis's daughter from the future. Luna and Artemis seem shocked and embarrassed to learn this which suggests that they do not currently have a relationship. Is their relationship a predestination paradox based on them now seeing they will be in one in the future? The show doesn't appear to work that way.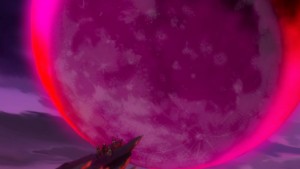 We learn some interesting things about Nemesis in this episode. King Endymion mentions that it's orbit is impossible to calculate. Indeed Nemesis is based on a real non existent planet. Many have searched for a planet which explains some inconsistencies in the orbits of other planets. These inconsistencies can better be explained by other phenomenon, but in the Sailor Moon world this is a real planet. In one shot we see the Black Moon Clan on Nemesis with a Moon in the background. This is a first. The Moon is even illuminated in such as a way as to highlight the crescent Moon that is seen on the foreheads of the Black Moon Clan. We have not seen a Moon around Nemesis in any other Sailor Moon canon.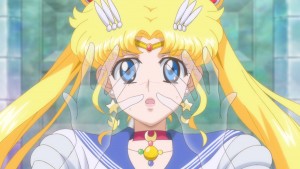 The gang must travel to the past because Sailor Moon and Tuxedo Mask are disappearing. The excuse given is that Sailor Moon is disappearing because she's in the same time as Neo Queen Serenity and that she's occupying a space too close to her. This is fair as she's lying right near them. Why then is Tuxedo Mask disappearing? Supposedly for the same reason, but this does not occur in the manga. Only Sailor Moon is seen as disappearing. Still King Endymion's body is not far away so this makes some sense.
We learn that Chibiusa and Diana were the only two to survive the attack by the Black Moon Clan but that they don't know why. The reason it turns out is that it was because Chibiusa had the Silver Crystal on her, and that she was holding Diana. Too bad we don't actually see Diana in Chibiusa's arms when she is attacked. This creates a bit of a plot hole as compared to the manga when Diana is clearly shown with Chibiusa's at the time of the attack.
This episode also introduces us to Sailor Pluto's crush on King Endymion! She immediately blushes when she sees him. Perhaps this is why she was so quick to try to kill Sailor Moon earlier! Eliminate Sailor Moon in the past and future King Endymion is all of a sudden back on the market! King Endymion asks Pluto to give Sailor Moon a Key of Space-Time, which she does. This whole exchange seems totally charged as no doubt Sailor Pluto is envious of the relationship Sailor Moon and Tuxedo Mask have and will share in the future.
What follows is just a ridiculous amount of time traveling. It was taboo to do so last episode but now we go back, spend a quick nap time in the past, then we fly back to the future like it was nothing. Mamoru doesn't even sleep in his bed. Chibiusa is in the bed and he sleeps on the floor. This makes us wonder where exactly he and Usagi had sex earlier when Chibiusa was in the bed. Did they just do it on the floor? Not very dignified for the future royal family!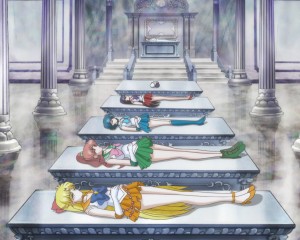 Back in the future we see Diana sleeping with future Luna and Artemis. She's in a room with the bodies of the Sailor Guardians, who are said to have taken the brunt of the attack on Neo Queen Serenity, as well as King Enydmion. So what is up with these people? They appear to be pretty much dead, which would explain the state of King Endymion's ghost. This isn't really explained but they are at best near fatally wounded and at worst corpses like the rest of the city.
The enemy this week is Esmeraude and her ridiculous multi arms! This reminds me a lot of Queen Beryl's hair. This is actually something which happens in the manga though then she has even more arms! She's seen chocking Tuxedo Mask, Sailor Venus and Sailor Moon with two arms each in the manga though we don't really see where each arm comes from. Here in Sailor Moon Crystal we have an arm awkwardly coming out of the back of Esmeraude's neck which just looks weird.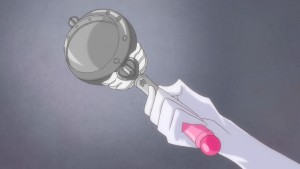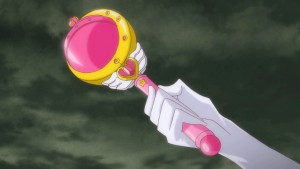 Sailor Moon tries to use her Cutie Moon Rod which doesn't go that well. It looks a lot like it did when it failed last episode. Actually it's the exact same image only they fixed the weird half uncoloured animation error they had. Otherwise it is identical as can be seen above. The reason for the failure given is that her Crystal doesn't work in the future, because you can't have two Crystals in the same time. Oh that's nice I guess we won't have another Sailor Guardian running around the present with the 30th century's Silver Crystal…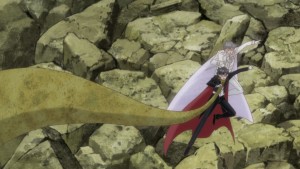 Luckily Tuxedo Mask saves the day with a Double Tuxedo La Smoking Bomber which he performs with the help of the ghost of King Endymion! This is yet another thing from this episode which did not occur in the original manga and for a good reason. If King Endymion's ghost is fully capable of using his powerful Tuxedo La Smoking Bomber attack isn't he vastly superior to physical King Endymion? Let's just get all of the Sailor Guardians running around as ghosts using their attacks without being vulnerable to attack by the bad guys! The Black Moon Clan would really be on the ropes if that happened!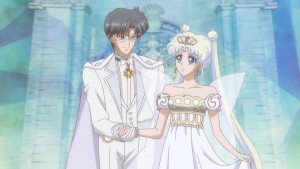 Next up is Act 21, Complication – Nemesis. Sailor Moon is kidnapped so I guess now we actually have to do something! With the previous three kidnappings rescuing them was a priority but now that Sailor Moon is actually gone what are we to do? Sailor Moon is the prisoner of Prince Demande. We will finally see what's up with the other Sailor Guardians and some big changes may begin for Chibiusa!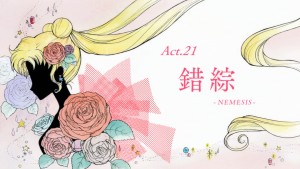 Keep reading for more screenshots from this episode and the next episode preview.